CONTACTCENTER4ALL is here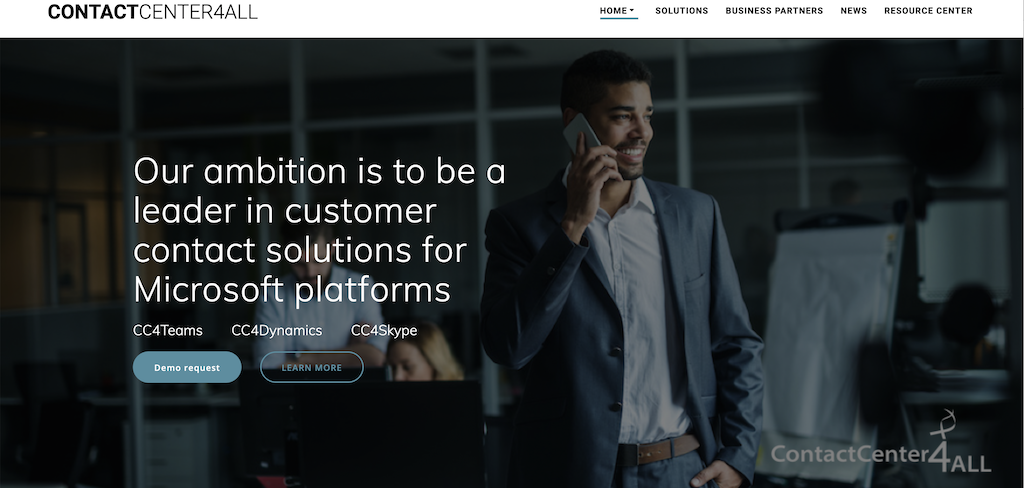 Over the years, we have adopted a clear stance in pursuit of our vision to become a leader in customer contact solutions for Microsoft platforms.
We started out as a solution for MS Lync, we moved on to Skype for Business, and we are proud to say that the name CC4Skype does no longer fit the bill. With so many creative thinkers and developers under one roof, over time, our solution grew into multiple solutions. We didn't want our brand to be disjointed, so we chose a more unified and suitable name: CONTACTCENTER4ALL.
CONTACTCENTER4ALL has evolved
CONTACTCENTER4ALL has evolved to become a company with a full suite of Contact Center Solutions.
Our solution enhances functionality for Microsoft Teams, Dynamics as well as Skype for Business. We can add this functionality on top of a wide range of solutions… we keep on developing. More about this, soon.
CONTACTCENTER4ALL is powered by in-depth knowledge of customer contact solutions and the ambition to improve communication 4ALL, we aim to change the trajectory of contact center solutions. Since the beginning, design and user experience have been a core part of our business and remains to be so.
"We've built a very intuitive platform, which enables people to work wherever they are and provides clear insight for contact center managers. And it now does so for Teams, Dynamics as well as Skype for Business. Our new name emphasizes this. As CONTACTCENTER4ALL, we remain committed to innovation, meaningfully engaging consumers, reducing friction points, and lowering costs 4 all." Marcel Reuvers, CEO CONTACTCENTER4ALL.
We will continue to stay dedicated to helping clients better connect with their customers as communication has become increasingly connected, personal, and digital.
Customer expectations continuously evolve, and customers expect immediacy and simplicity. To match this 'always-on' existence, building a strong connection with customers requires an experience that is personalized, readily-available, consistent, meaningful, convenient, and secure—regardless of the channel.
Our new identity and new name deserve an appropriate new website. So we're also very proud to announce that our new website will launch on Monday February 3rd. Please, take a look at WWW.CONTACTCENTER4ALL.COM