Hello, London! Are you ready to experience our game-changing Customer Contact technology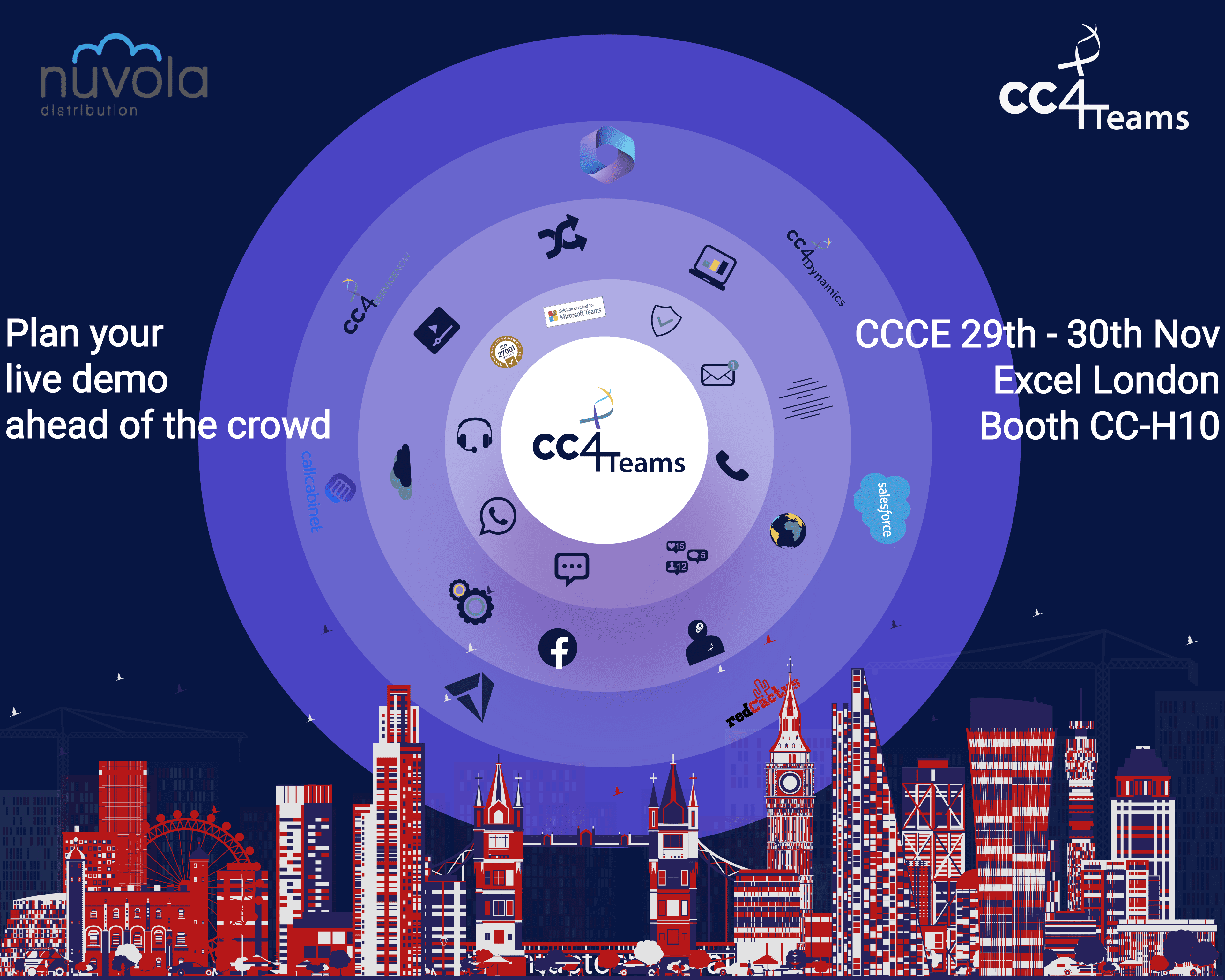 Hello, London! Are you ready to experience our game-changing Customer Contact technology at Call and Contact Centre Expo 2023, held at London's ExCel on November 29th and 30th?
Experience how CC4Teams ensures Customer Contact Enablement. Whether you want to improve business intelligence or get serious about compliance, we're showcasing how to make that possible at Call and Contact Centre Expo 2023. 
The tech-filled conference is perfect for reconnecting with thousands of customer engagement professionals and industry-leading suppliers. Whether you're looking to meet new faces, network, or drive innovation in customer service channels, the Call and Contact Centre Expo (CCCE) is the place for like-minded individuals across Europe and beyond.
Make sure you come and see the very best and newest contact center developments for Microsoft Teams.

It's Microsoft Teams – but not as you know it
Our team is ready to showcase the latest advancements in Customer Contact Enablement technology, including the sought-after CC4Teams Extended model, and they have much more to show you.
At CC4ALL, our mission is to deliver constant innovation and state-of-the-art solutions. During and after the pandemic, as the use of Microsoft Teams rose exponentially, CC4ALL was in the perfect position to develop full-featured and comprehensive Omni-Channel solutions built by Contact Center experts and endorsed by Microsoft Teams.
The result? CC4Teams was one of the first solutions to be certified by Microsoft as an extended Contact Center solution for Microsoft Teams. Our solution delivers features such as historical and real-time reporting through Power BI and improved internal and external communication through direct routing, zero server downtime, and Geo Redundancy.
CC4Teams is also certified for information security ISO certification 27001 and reached Microsoft SaaS Apps security and compliance. Hence, it ticks the customer service and compliance boxes.

CC4Teams embraces artificial intelligence
But the list doesn't stop there! CC4Teams is integrated into the latest Microsoft Azure Communications Services to offer an enhanced generative AI solution for the Contact Center. At CC4ALL, we recognize that providing outstanding customer engagement is important for any business, so why not make it AI-proof? Integration with Microsoft Azure Solutions ensures that all AI enhancements, including Copilot, are incorporated – keeping businesses secure, operations efficient, and Customer Delight high!
Your one-stop shop for Customer Contact Enablement
This year at Call and Contact Centre Expo, we are showcasing some exciting new features and capabilities for our CC4Teams solution, which will yet again enhance your customer service offering and reduce that often present friction within the contact center.
Today's customers will settle for nothing less than great customer service, and recent research has shown that for a massive 88% of customers, the service experience matters just as much as the products. The good news is that the days of driving blind on the journey to Customer Delight are gone!
Powering Customer Delight with BI
Now, powered by Power BI historical reporting and real-time insights, gaining actionable insights into your contact center has never been easier. With advanced call recording and reporting features, CC4Teams ensures employees are equipped with tools to empower them through insights and feedback to facilitate new and essential capabilities – from staff training quick resolution answers to regulatory compliance and monitoring incoming call traffic to improve wait times. It powers your ability to offer service excellence and ensures customer contact enablement that fosters customer loyalty and improved employee experiences.
New partnerships: Meet CallCabinet, our business partner, at booth CC-H10
CC4ALL also holds a strong focus on partnerships to expand the reach of its CC4Teams solution, as demonstrated by our latest partnership with CallCabinet, a leading compliance call recording and analytics solution company.
Its revolutionary compliance call recording solutions enable unrestricted business intelligence within any communications environment. With over 2 billion calls now recorded, the experienced CallCabinet team certainly knows what they're doing.
Stay safe with CC4ALL
Recording customer conversations can create many regulatory complications. For businesses in highly regulated industries, following the correct laws and regulations is crucial for consumer safety. Contact centers must adhere to regulatory guidelines, whether it be Dodd-Frank, GDPR, POPI, PCI DSS, the FCA, or MiFID. For this reason, we have partnered with CallCabinet to ensure calls remain compliant with all regulations and customer safety remains paramount.
How? Recorded calls are stored within Microsoft Azure, a state-of-the-art global cloud platform built with customized hardware, security controls integrated into the hardware and firmware components, and added protections against threats. 35,000 international cybersecurity experts monitor it.
To learn more about CallCabinet and CC4ALL, visit us at the CCCE in London next week, booth CC-H10.
CC4ALL is ready and waiting for you
Our team of experts is ready and looking forward to meeting you at CCCE – see us at stand CC-H10! Why not get ahead of the queues and book your personalized demo with the CC4ALL team here?
We hope you enjoy the event, but if you can't wait until then – find out more about CC4ALL and CC4Teams on our website.
If you can't attend the event, why not check out our exclusive webinar jointly with our UK partner, Nuvola Distribution.
Sign up for the webinar on  and experience the simplicity of CC4Teams!