Going to Call and Contact Centre Expo, London, 16-17 November?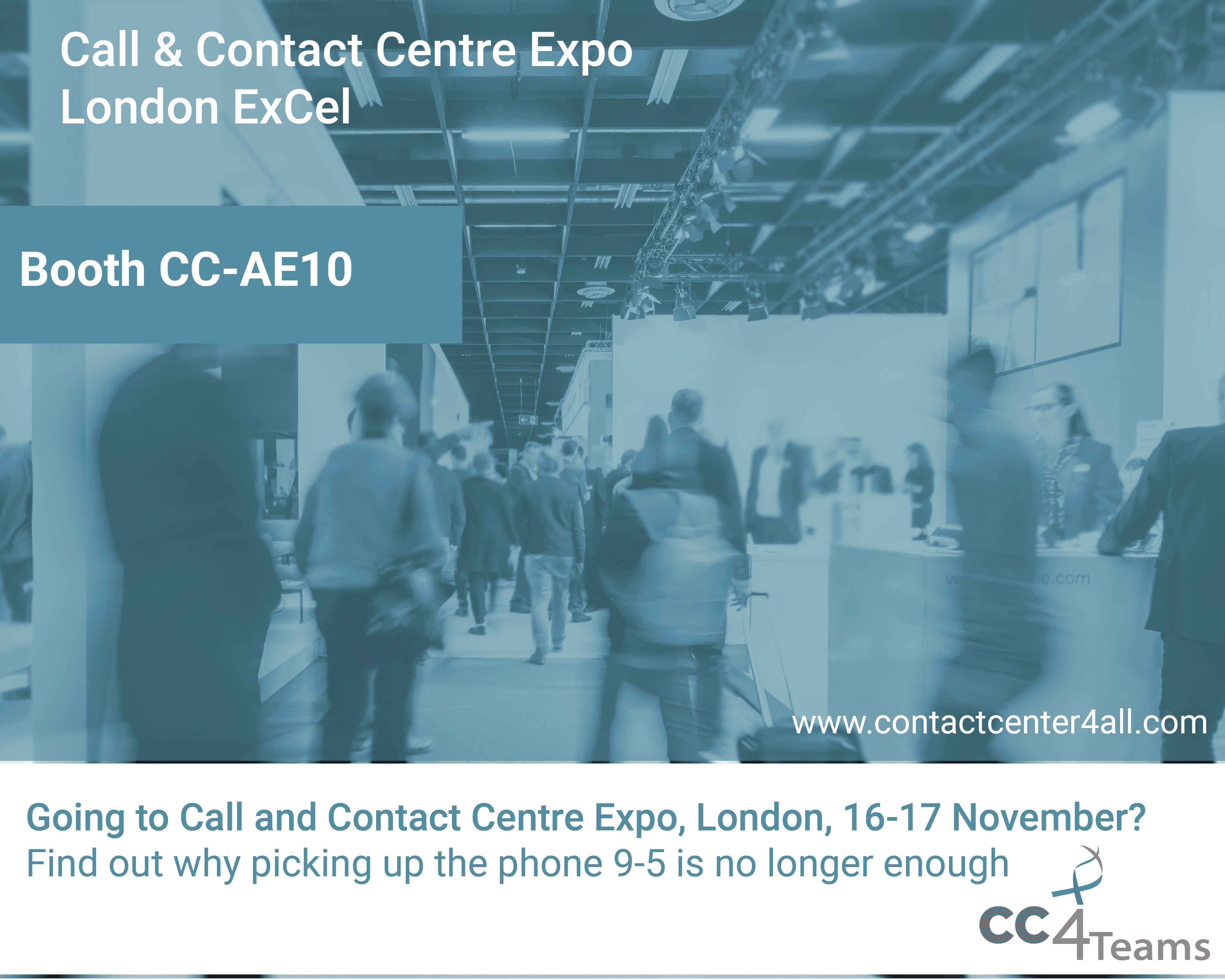 Find out why picking up the phone 9-5 is no longer enough
As consumer expectations continue to rise, so do the pressures surrounding customer experience (CX) – and organizations are increasingly seeking bold and innovative ways to satisfy consumers. Shining the spotlight on technology in this market is the Call and Contact Centre Expo (CCCE) – Europe's leading call and contact center event, here to showcase the best and latest contact center technologies, strategies and advancements to those looking to excel in their CX offerings. From 16-17 November, you can find us there! Here at CC4ALL, we believe the value of our CC4Teams solution should be felt by everyone in the contact center space, and as a result we will be exhibiting our solution at the event held at the ExCeL London this November.
CCCE is all about the future of contact center technology. That's why we're going to be there. Because the contact center of the future is already here – with CC4ALL.
A new way of working with Teams: Wherever you want us, we are there!
CC4ALL solutions developed as Microsoft developed its offerings – we started off with a platform that provided a native Skype for Business contact center solution, but as Microsoft evolved, the stage was lit for Teams to make its move and we developed our CC4Teams solution.
With CC4Teams, your contact center is wherever you want it to be! We're well-positioned with our solution to offer 24×7 business continuity, no matter the situation – providing businesses with only the features and functions they need to focus on what's important. Built with collaboration and communication in mind, CC4Teams is natively integrated with Microsoft Teams, and will work seamlessly in your existing Microsoft Teams environment.
The benefits are two-fold. CC4Teams adds the critical functionalities that a contact center agent needs. For instance, agents can access the team's complete knowledge base, or use the Teams chat to discuss topics between agents. All chats from team members will be easily accessible from one central location, improving efficiency and time spent searching for answers.
Webchat and social are on the rise – make sure you're there too
Today, conversations between consumers and agents still primarily take place on the phone – but channels such as webchat and social media are on the rise. An omnichannel solution capable of transforming the customer service experience and journey will be crucial. With integrated AI, text and speech can be analyzed, offering unique insights into customer contact and agent efficiency.
But the basics still count – routing calls to the right person
We take call routing very seriously here at CC4ALL, as being directed to the wrong agent is the number one reason for consumers hanging up. All channels, from social media and voice to email or webchat, will be powered by the same engine, meaning that all conversations will be directed to the right agent at the first point of contact.
And then check out these features
CC4Teams provides users with the same familiar screen and Teams solution, but with a host of features that turn the platform into a complete contact center. Your customers can connect with you through any channel, CC4Teams will route them to the best available agent, and your integrated CRM system will recognize the customer and follow their journey. CC4Teams adds cold and warm transfer, call recording, IVR, operator attendant, historical and real-time reporting (integrated with Microsoft PowerBI), home workers, and many more. It is easy to use, easy to manage and provides easy insights. And of course, when you are ready to make the switch, we make sure this transition is effortless and smooth.
See you on our stand at CCCE
If you'd like to find out more about CC4ALL and CC4Teams visit our website – or why not visit us down at the ExCeL London? Find us at Stand CC-AE10.
Willeke Hellenthal is Marketing Manager at ContactCenter4ALL