Building the remote contact center of the future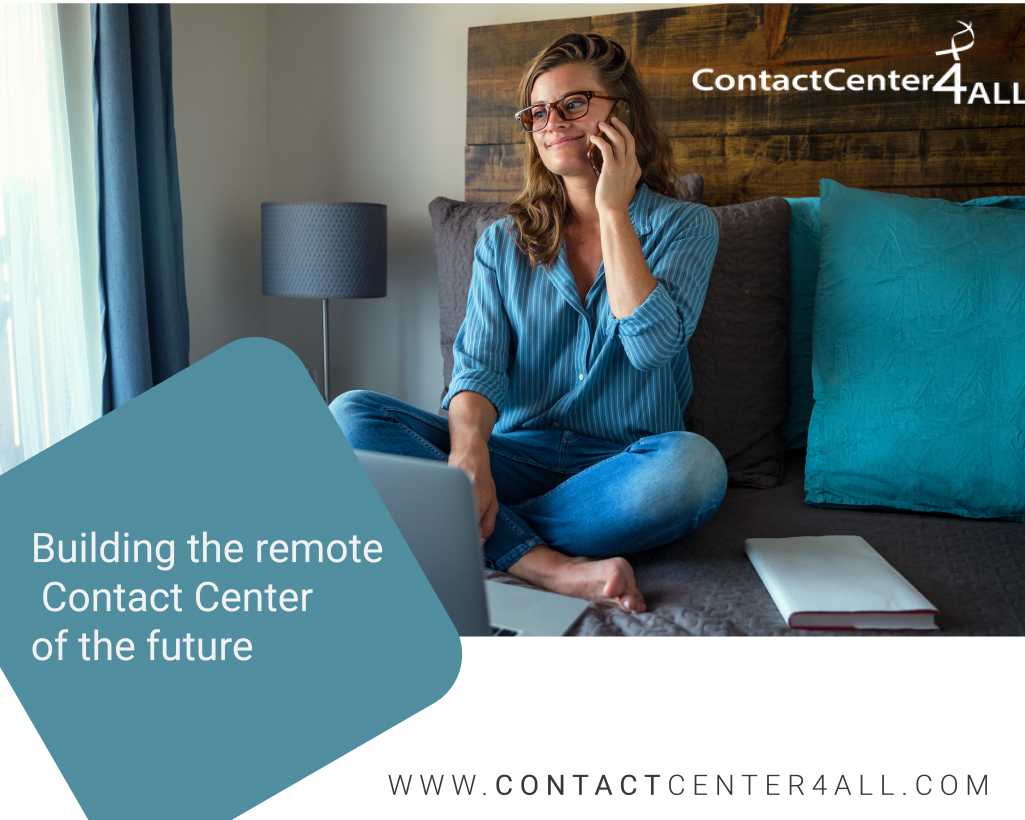 The post-COVID remote contact center: it takes more than a head set and a monitor!
Long-term remote working requires dedicated solutions
Building the remote contact center of the future.
Business practices have been redefined during the COVID-19 pandemic, with entire organizations having to take operations remote almost overnight to ensure business could continue seemingly undisrupted. For sectors such as customer service, this was essential. The new remote working paradigm is expected to be permanent, with Gartner estimating that over 40% of employees will remain working from home after the pandemic is over. To successfully navigate this new working environment in the long-term, customer service organizations need to leverage technology solutions so contact centre agents and supervisors can provide premium customer service from home.
Anne-Meine Gramsma, Chief Commercial Officer at ContactCenter4ALL, explains.
Remote working was originally seen as a short-term solution to allow business continuity during the height of the coronavirus pandemic. But with increased efficiencies, reduced costs and rising employee satisfaction, businesses are exploring the long-term options for remote working, and some organizations are even discussing abandoning head offices all together. 
As we consider the permanency of remote working options, organizations need to move away from traditional software that is only suitable for the office and deploy an infrastructure capable of supporting remote working in the long-term. A successful remote working transition requires dedicated remote working platforms so organizations can continue to reap the rewards of remote working without damaging customer communication or customer service.
The new meaning of remote working
Over lockdown Microsoft Teams experienced a surge in popularity – there were an estimated 20 million daily users of in late 2019, which skyrocketed to 75-plus million users per day since lockdowns were established worldwide. This upward trend is not set to disappear post-pandemic and just highlights the necessity for businesses to leverage Unified Communications platforms to form a backbone for advanced remote working and provide the enhanced technology that could offer these dedicated remote collaboration and communication features. 
The new norm post-COVID is likely to encourage employees to work from a remote location, when and where is convenient to them and to their employers. The objective is to embrace a strategy that is more efficient and effective for everybody – and that includes the customer. Yes, commute times and expenses are significantly reduced, and yes there is pre-pandemic research that indicates employees who work from home are significantly more productive than their
office-based counterparts, but businesses must ensure they put in place effective, long-term remote working strategies that ensure customer service levels are not affected or interrupted but rather enhanced.
Remote contact centers that don't compromise the customer experience
To enable remote working in the contact centre space, some may assume that agents just need access to contact centre software, a headset and a pair of monitors to work effectively from home. But it takes more than this to deliver uninterrupted services to customers at the speed and level expected by today's consumers. 
I've already mentioned the dramatic growth in usage of Microsoft Teams during this lockdown period. When a proven collaboration platform such as Teams is integrated with dedicated contact centre software, then businesses can stay fully accessible to customers, integrating collaborative platforms and capabilities for all remote agents to maintain the same high level of agility and flexibility.
Contact center solutions that can handle omni-channel communications
To continue providing a high-level customer service, solutions must be able to handle omni-channel communications at the customer-facing level. Remote workers must be able to communicate with and provide support on the customer's channel of choice – whether this is phone, email or alternative channels such as WhatsApp and Facebook depending on regional popularity.
Integrating these communication channels into a single client unlocks further powerful features to help deliver an excellent customer experience, such as warm transfers, enhanced call routing and colleague availability alerts.
Skills-based call routing – get the right agent first time
Remote working often involves disparate customer service teams which in turn can pose challenges in delivering a consistent customer experience. Customer calls are often at threat of being routed to the first available agent instead of the most suitable agent for a specific query. This threatens to increase resolution times and frustrate customers through unnecessary transfers between agents.
Features such as intelligent, skill-based routing help tackle this by ensuring customers receive first-time problem solving from the best available expert, without compromising on answer times. All incoming customer calls, regardless of channel, can be routed through the same engine and assigned based on query type. 
Skill-based routing offers an excellent opportunity to boost both employee and customer satisfaction – agents are happy they can apply their specific skillsets and interests to solve customer problems, while customers enjoy a swift, knowledgeable resolution to their issue on the first time of asking.
Don't let remote working affect reporting
When contact centre agents are working remotely, supervisors have the added challenge of ensuring employees are fully accountable and operating as effectively as their office-based counterparts – a challenge that scales based on the number of agents working from home at any given time. This is where businesses should look to contact centre solutions that can incorporate extra functionalities for real-time reporting, to ensure agents are operational and delivering a consistently high level of customer service.
For supervisors this means access to granular reporting dashboards, with performance metrics and data visualised through tools such as Power BI. This level of reporting goes far beyond capturing standard details such as customer solve rates. Supervisors are provided with heat maps of activity to identify particularly busy periods of demand on a daily and weekly basis, and can track average call-back times and queue times to identify and address potential bottlenecks where more agents are required.
The golden opportunity to unlock the benefits of remote contact centers
Before the pandemic, the prospect of switching an entire contact centre to remote working would have taken months if not years to implement, but COVID-19 has expedited digital transformation within businesses.
Now contact centres have demonstrated that with solutions such as Microsoft Teams they can operate remotely, they need to further boost operations with software that can enhance remote working capabilities. That means software that offers the necessary granular reporting and advanced features such as intelligent call routing and warm transfers. Only this way will they be able to add real value to the customer service they can offer, unlock efficiencies for their remote contact centre staff and ensure that the remote future of contact centres does not compromise the customer experience. 
Read Building the remote contact center of the future article in
Anne-Meine Gramsma is Chief Commercial Officer at ContactCenter4ALL