Showcasing the Contact Center of the Future at the Call and Contact Centre Expo 2022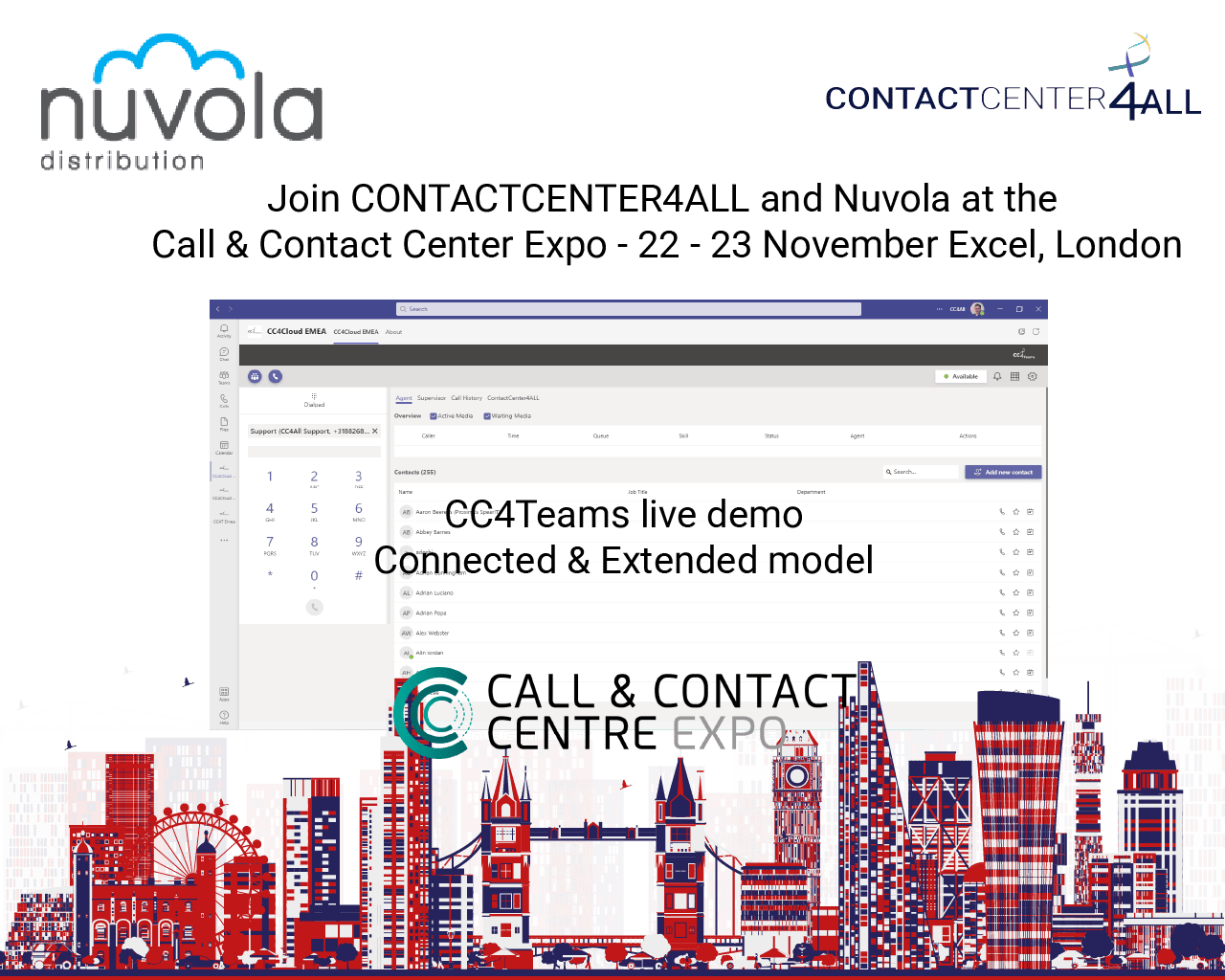 CC4Teams is now available in the Connected and Extended model
It's that time of the year again – and no, we're not talking about Christmas just yet! The Call and Contact Centre Expo is back in London for another tech inspiring conference, and we will be there, front and center – or at least on stand CC-I15!
This 22-23 November, we are headed to ExCel London to join thousands of other customer engagement professionals in Europe's leading industry event. The Call and Contact Centre Expo (CCCE) is where like-minded customer service professionals unite, network, and drive new customer service innovation across Europe and beyond.
We will be there, and we have some news to share!
1 CC4Teams: The new wave of contact center software solutions
The world is changing rapidly, with hybrid working models becoming standard practice and customer expectations for instant response and first-time fixes on the rise. The challenges for customer engagement professionals are constantly growing. Businesses need to be able to provide instant service 24/7.
Here's where CC4Teams, a comprehensive omni-channel contact center solution, comes in!
CC4Teams is the perfect solution for business service needs inside and outside the physical contact center. As a native Microsoft solution, CC4Teams is a cost-effective contact center (SaaS) solution that integrates seamlessly into existing Microsoft Teams platforms. Harnessing the power of AI and automation technology, CC4Teams provides customer engagement professionals with enhanced skill-based routing, omni-channel communication, and real-time reporting and compliancy recording – all on a single screen – creating a virtual contact center of the future.
2 Welcome our newest addition: CC4Teams Extended model primed and ready to go
This year we're not just bringing one solution to CCCE but two powerful contact center solutions. Our Connected model and our new Extended model! While the Connected model of CC4Teams is a state-of-the-art, fully native Microsoft Teams solution, providing users with the functionalities to transform their Teams platforms into a digital contact centre platform, our Extended model takes the digital contact center one step further!
With only a handful of certified Extended model providers on the market, the CC4Teams Extended model is truly revolutionary. The Extended model provides users access to wider Teams integrations, CC4Teams client works via Microsofts graph APIs, and Cloud communications API, making SIP connectivity a thing of the past and with improved internal and external communication through direct routing and zero server downtime through Geo Redundancy – for fluid working and seamless service.
Be sure to see it first at CCCE!
3 New partnership: Nuvola Distribution gets on board with CC4Teams
We would also like to announce our newest partnership with Nuvola Distribution, one of only two technology and service distributors in the UKI. Based in Reading, UK, Nuvola has a global reach with operations across Europe and has honed the complex business skills required to distribute technology solutions across international markets over many years of experience as a technology distributor.
Nuvola Distribution was particularly drawn to the CC4Teams solution due to its extensive omni-channel capabilities, full certification with the Microsoft Teams platform, and easy integration into existing work operations that bring real value to their customers. This new partnership will propel the CC4Teams solution in the UK and the rest of Europe, bringing additional value to business service operations.
We look forward to seeing everyone at CCCE – be sure to come and find us at stand CC-I15 – plan your demo before the event here.
If you can't wait for that, find out more about how CC4ALL and CC4Teams can help transform your customer service offering – visit our website.