CC4ALL enters Spanish markets by partnering with Más IP Telecomunicaciones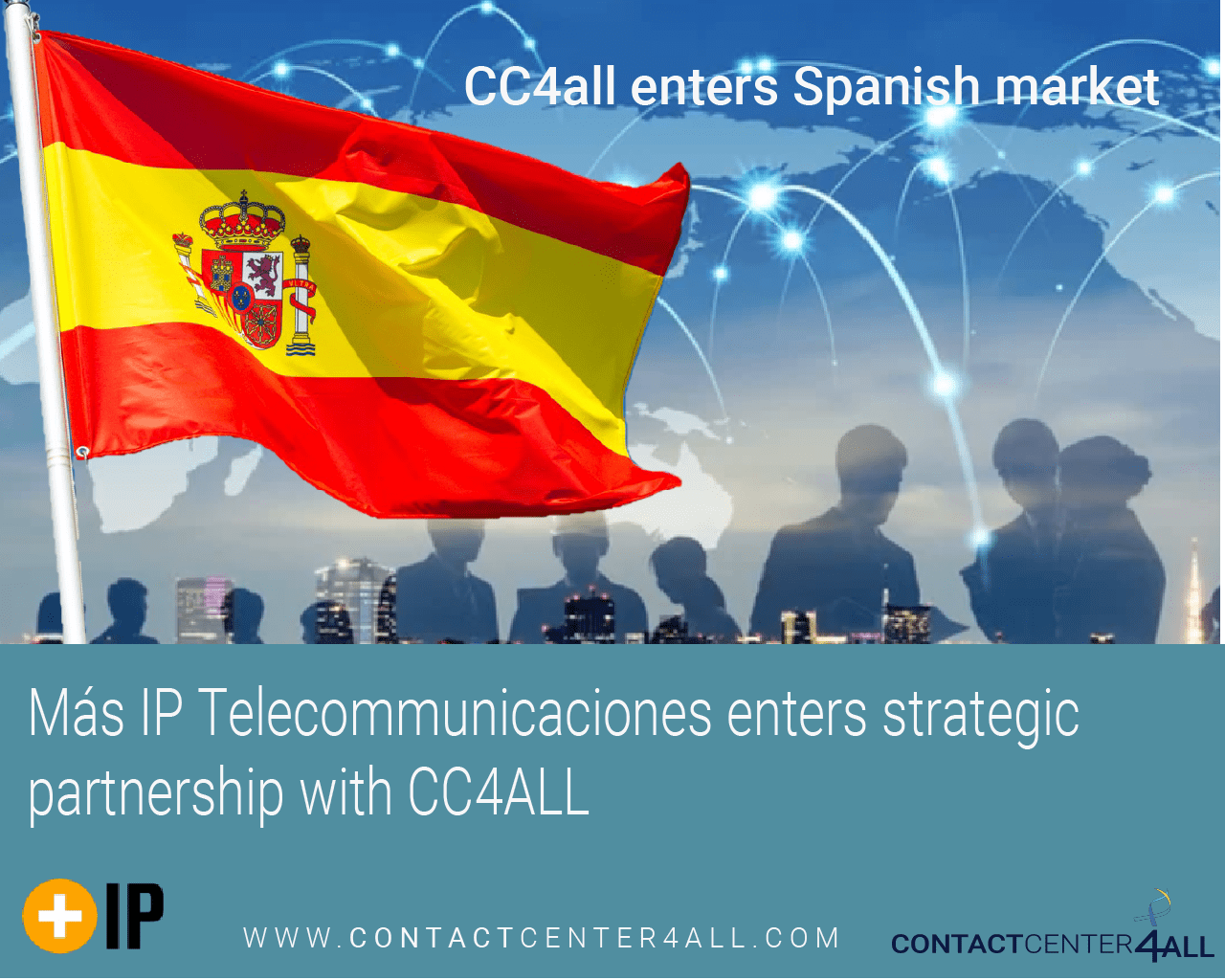 Más IP Telecommunicaciones enters strategic partnership with CC4ALL
Valencia, 17 October 2022 –Mas IP, focused on business communication services in Spain, is pleased to announce its partnership with CC4ALL. This new partnership adds an innovative solution that turns Microsoft Teams into an omni-channel Contact Center to their portfolio. CC4Teams allows companies to interact more efficiently with their internal and external customers through a single easy-to-use platform.
Spanish Más IP and Dutch CC4ALL, proprietary developer of CC4Teams, reached a strategic alliance that will allow the multinational access to the Spanish-speaking market.
With CC4Teams, customers can reach companies through the channels of their choice through a single platform certified by Microsoft.
Key challenges CC4Teams addresses :
EASY TO USE Simplify internal operations and minimize adoption barriers
Especially for employees already familiar with Microsoft Teams, the contact center features added by CC4Teams are easy to use, making adapting fast, intuitive and simple.
EASY TO MANAGE: Optimizing time investment, resources, and customer service staff; is one of the greatest challenges for companies. A solution that is easy to configure and performs efficiently provides added value that impacts the company's brand and employees.
EASY INSIGHTS: Information for decision-making at a glance. CC4Teams integrates natively with Power BI and provides a visually attractive and straightforward graphic dashboard, making monitoring KPIs easy.
Leading the future in ways of working, CC4Teams creates stable, intuitive, and secure collaborative environments that help companies implement hybrid working.
The partnership between Mas Ip and CC4ALL aims to continue positioning Spanish companies as vanguards in technological communication solutions with an international scope.
About Más IP Telecomunicaciones
Since 2011 we have been developing powerful and flexible voice and written communication systems so that our clients can benefit from all the advantages of VoIP technology and its integration with CRM systems, ERP, and marketing automation tools.