ContactCenter4ALL achieves Microsoft certification for its feature-rich CC4Teams contact center solution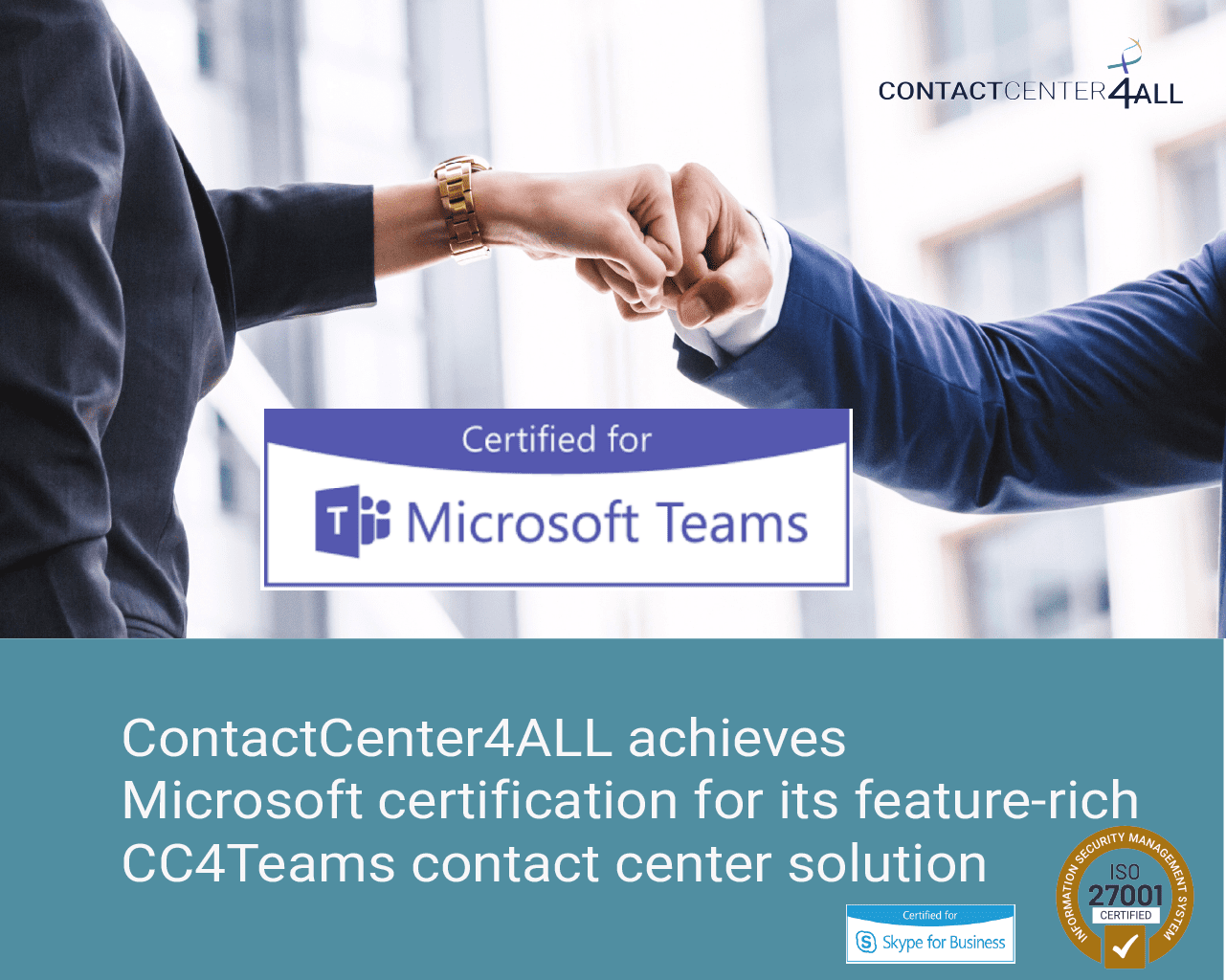 ContactCenter4ALL achieves Microsoft certification for its feature-rich CC4Teams contact center solution
Microsoft certification confirms CC4Teams as a contact center solution that adds powerful omnichannel services to the Microsoft Teams platform
CC4Teams is certified for the Extended Model, using Teams Graph APIs and Cloud Communication APIs for integration with Teams
Teams users now have access to functionalities including call recording, intelligent skills-based routing, and analytics dashboards driven by Microsoft Power BI
7 September 2022 – ContactCenter4ALL, a global provider of contact center solutions for Microsoft platforms, has today announced its CC4Teams omnichannel software has achieved official Microsoft certification. Launched in mid-2020, the cloud-based CC4Teams solution enables organizations to use Microsoft Teams as a full functionality contact center platform, incorporating all the extra features necessary to create an omnichannel contact center. Companies can now integrate social media, e-mail, webchat and call offerings with powerful analytics that can be used from any location, into their contact solution.
ContactCenter4ALL is an official Microsoft partner and has natively integrated its powerful CC4Teams solution into the Teams client using the Extended model, providing customer service agents with access to a full set of contact center features on a single screen. The omnichannel solution, with its intelligent call and webchat routing, supervisor capabilities and call recording, solves many pain points felt by organizations during the transition to remote or hybrid contact center operations.
CC4Teams advanced reporting and supervisor functions, powered by Microsoft Power BI, means managers have access to all reporting dashboards and agent performance information. The dashboard allows managers and agents alike to track KPIs live and view real-time and historic analytics, productivity and call queues. With these insights management and supervisors can easily assess overall contact center performance.
"The pandemic contributed to a major expansion in Microsoft Teams adoption as many businesses adapted to remote and hybrid working," said Anne-Meine Gramsma, CCO at ContactCenter4ALL. "Organizations now realize there are various specific features required to transform the Teams platform into a full-service contact center remotely and remain reachable. CC4Teams allows agents to access all functionalities of a modern contact center through Teams from any location, often at a lower TCO than traditional solutions."

Anne-Meine Gramsma, CCO at ContactCenter4ALL
"Our platform has been designed with over 20 years of expertise in the contact center space, culminating in today's recognition by Microsoft as a certified provider of third-party solutions to enhance the Microsoft Teams experience," said Cees de Jong, CEO of ContactCenter4ALL. "We have used our knowledge of business processes in the contact center environment to create an easy-to-use solution that covers a whole range of contact center complexities. For example, we know that customers reaching the right agent first time either on a phone call or via webchat has the biggest impact on customer satisfaction, so have embedded intelligent routing into our platform."

Cees de Jong, CEO of ContactCenter4ALL
"The large-scale shift towards remote and hybrid working has necessitated adoption of reliable communications platforms to support varied business operations and collaboration from any location," said Pete Daderko, Director, Microsoft Teams Product Marketing. "The integration between Microsoft Teams and CC4Teams ensures customer service agents are no exception, providing them with a rich set of contact center specific features within Teams."

Pete Daderko, Director, Microsoft Teams Product Marketing