The contact center of the future has arrived: Lessons learned from our webinar with Microsoft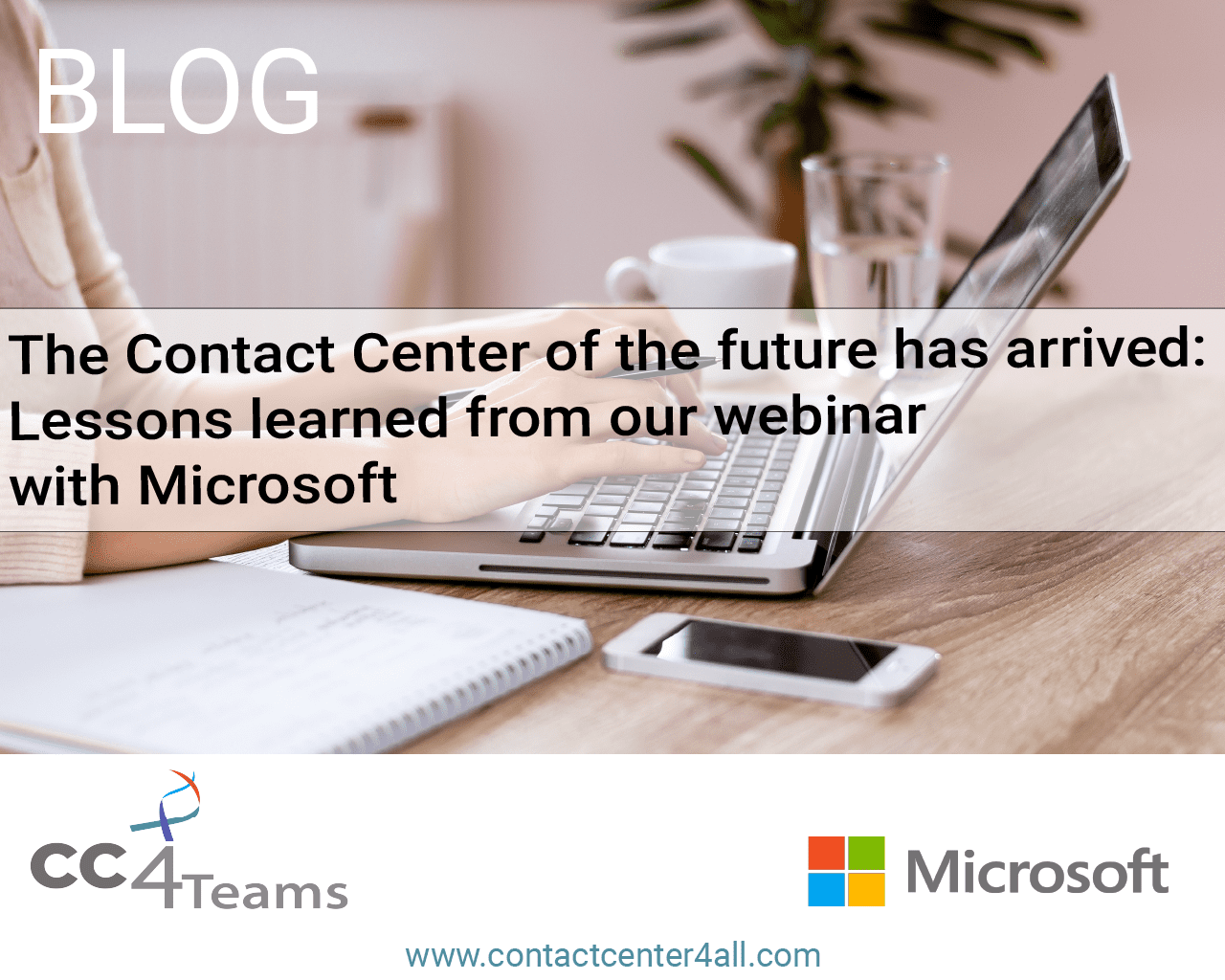 The contact center of the future has arrived: Lessons learned from our webinar with Microsoft
We've all experienced the disruption caused over the past 18 months – and an underlying theme was the ability of forward-looking organizations to ensure 'business as usual' through digital, cloud-based infrastructure and services. At CC4ALL, we're well-positioned with our flagship CC4Teams solution to help provide customers with a contact center service capable of riding any disruption and deliver business continuity 24×7.
At our recent joint webinar with Microsoft we explored this issue in depth. CCO Anne-Meine Gramsma was joined by Microsoft's Remco de Kramer and Helmut Jansen, System Engineer at CC4Teams customer Kampmann Group – to discuss the business-wide benefits of deploying CC4Teams integrated with Microsoft Teams.
For a case in point, you can read about the Kampmann Group journey to transform their contact center operations with CC4Teams in our new customer reference story. But to start with, here are the key takeaways from our webinar:
Remote or in-person? Microsoft research shows the solution is not binary
After the initial short-notice shock as everyone moved to fully remote working, technology stepped in to mitigate these disruptions and ensure 'business as usual'. But where next? A majority of businesses look set to adopt a long-term hybrid model, with employees splitting time between remote locations and the office.
Microsoft research showcased during our webinar indicated a significant split between employee opinions on the future of work, with 73% wanting flexible remote options to remain, but 63% also wanting more in-person work and collaboration. The inevitable solution will be in the middle ground – working at a time and location convenient to employee and business alike.
People will from now on need to be connected and be able to communicate and collaborate effectively, with the same tools and capabilities, regardless of location.
That means businesses running legacy or outdated systems and processes will struggle to provide this – particularly in the context of contact center operations and departments. A new, more flexible operational model will be key to empower employees that engage customers – a model that can also optimize operations and transform product offerings.
Enter platforms such as Microsoft Teams and CC4Teams.
Bringing people, places and processes together in the cloud
Business leaders must look to empower employees through the tools they provide them with, ensuring employees can work effectively and thrive in any location. This requires a suite of dedicated communication and collaboration solutions to provide employees with a complete set of workplace capabilities on the move.
This is being further driven by rising enterprise adoption of cloud services – Gartner analysis shows global spending on public cloud is set to grow another 21.7% by 2022, reaching $482 billion. Why the rush? Well, shifting to services hosted in the Microsoft Cloud, for example, allows businesses to benefit from a wealth of integrated privacy, security and compliance measures.
Cloud-based solutions such as Microsoft Teams have already proven their worth during the pandemic, helping employees, departments and whole businesses stay connected – and will continue to do so in the post-pandemic hybrid world of work. The latest figures released by Microsoft show 145 million daily Teams users and counting, as of May 2021!
Not for me? Tailoring Teams for long-term contact center success
Although a powerful standalone communications tool, Microsoft Teams can be enhanced with specific contact center capabilities that would otherwise require a disconnected or separate system. By 'layering' CC4Teams on top of Teams with a native integration, contact center agents benefit from being able to work and serve customers through a single, unified platform.
These dedicated contact center features include warm call transfer, skill-based routing and graphical IVR, all of which help organizations establish a true omnichannel customer service experience. Leveraging the Microsoft Graph API can further enhance this deployment with powerful integrations. CC4Teams, for example, supports dynamic URL and CTI integrations with CRM and ERP systems to equip agents with richer data insights, pulling through customer data from integrated systems and making features such as call control buttons directly available with the CRM system.
Ease the IT burden with cost-effective infrastructure
During the webinar Helmut Jansen looked at how the CC4Teams deployment had triggered a notable improvement in Kampmann Group's CX – as shown in their customer survey responses.
Yet there are additional business benefits at the highest level.
The shift to cloud-based telephony through Teams provides an excellent opportunity to simplify IT and communications infrastructure, consolidating multiple phone systems into a single, Teams-based system. CC4Teams is hosted in the Azure cloud to guarantee high availability – a key differentiator for customer experience – and allows businesses to embrace a flexible, roles-based licensing model that can be scale up or down based on demand and staffing levels.
At the supervisory level, users benefit from real-time and historical reporting, including heat maps to identify customer surges by location, time of day or department. Integration with Power BI also allows supervisors and management to use powerful data visualization to drill down further.
Teams and CC4Teams: A powerful combination for future-proof hybrid operations
CC4Teams has a solid development pathway, and today has partners and customers across the world operating everywhere from North America through to the Asia-Pacific region. With Microsoft Teams this partnership is set to go from strength to strength, with upcoming features such as virtual meeting rooms planned to eliminate collaborative barriers between remote and office users.
The primary takeaway from our webinar? If you're looking to future-proof and enhance contact center operations, take advantage of an industry-leading communications platform such as Microsoft Teams, with powerful customer-focused capabilities layered on with CC4Teams.
This enables organizations to put in place a long-term, customer-centric hybrid strategy – enhancing both internal and external communications in the process. Opting for a platform that is easy to use, manage and gain insights from will help contact centers deliver on the ultimate goal of improved CX.
Want to watch the whole webinar to learn more? This is now available for free, on-demand – To watch, click here.
Willeke Hellenthal is Marketing Manager at ContactCenter4ALL.