Leading global HVAC business deploys CC4Teams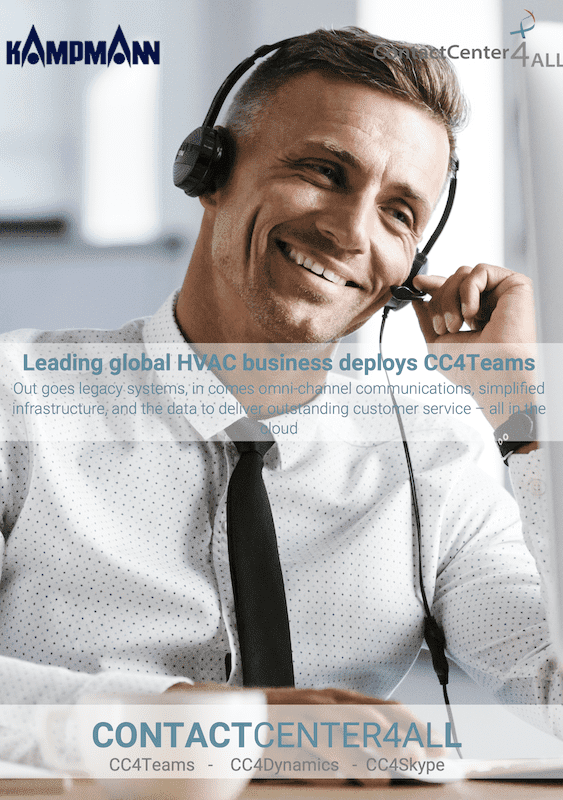 Out goes legacy systems, in comes omnichannel communications, simplified infrastructure, and the data to deliver outstanding customer service – all in the cloud
Read reference story in PDF
Kampmann Group is one of the world's leading providers of HVAC products and has an excellent reputation for first-class customer service. The company previously operated a classic on-premise phone system for communications, but legacy infrastructure retirement and a desire to shift towards cloud-based platforms necessitated a change. Today, Kampmann Group has a centralized communications solution deployed in the cloud to initially enhance contact center operations and improve the customer experience, thanks to Microsoft Teams and CC4Teams from ContactCenter4ALL – with further departments set to follow in the future.
"Our adoption of Microsoft Teams and CC4Teams marks a significant milestone in our digital transformation push – moving away from legacy phone systems onto a single future-proof platform that allows us to seamlessly collaborate and provide excellent customer service."

Helmut Jansen, System Engineer, Kampmann Group
Challenges and trends to address

Kampmann Group previously supported telephony for over 900 employees through on-premise phone systems. The Germany-headquartered needed to move from this legacy approach to a single modern cloud-based system for all employees and departments, including the contact center.
Covid disruption sparked a mass shift to remote and hybrid working and the adoption of online training and conferencing, yet the company needed to ensure 'business as usual' contact center and other customer-facing operations. There was also a push to enhance customer service capabilities in the long-term, due to continued rising customer expectations for omnichannel support.
Kampmann Group has a long-term cloud policy to explore future large-scale migration of systems and services to the cloud. As part of this, the company has initiated a major project to move away from various disconnected open-source software to a selection of modern Microsoft solutions hosted in the cloud.
Hybrid working has also been identified as a long-term strategy, in preparation for the new post-Covid norm of employees working from remote locations when this is mutually convenient to them and their employers. The objective was to embrace a strategy that is more efficient for everybody – while ensuring customer service levels remain consistently high.
The solution – CC4Teams meets Microsoft Teams

Kampmann Group selected CC4Teams – a cloud-based, all-in-one software solution from CC4ALL to help employees spread across multiple locations better communicate and continue to deliver excellent customer service. CC4Teams represented a comprehensive, simple solution to add the required contact center features and functionalities into the existing Microsoft Teams client.
This could be quickly deployed on top of existing Teams presence without disrupting day-to-day business operations. Beyond this, the company also required further integration with an existing CRM system, to ensure contact center agents had instant access to relevant customer service and sales data within the same platform.
The solution was originally rolled out in the customer service department to support critical contact center operations, and quickly established itself as an effective solution, running smoothly for agents, management and IT staff alike. Other departments such as sales, which currently still use the legacy system, are now being assessed as potential candidates for an expanded roll-out.
Internal and external benefits – all delivered from a single platform

Kampmann Group today enjoys use of a single cloud-hosted communications platform, easily accessible by all employees from any location to support both remote and hybrid working. The company can now use Microsoft Teams as its primary communications platform – successfully moving from a 'traditional' legacy phone system to using Teams as the phone system.
The integration of CC4Teams into the platform has provided contact center agents with a rich feature set to enhance the customer experience and help them deal with customer queries faster and more effectively than ever before. Agents can easily warm transfer calls between locations, activate call recording and receive supervisor support.
On the management level, Kampmann Group now benefits from granular historical and real-time reporting, including heat maps, alerts and KPIs to help managers ensure service levels are continually maintained. Powerful skills-based routing can be established and adjusted to ensure workloads and spread evenly and enquiries are handled by the most suitable agent.
Kampmann Group is also closely involved in regular discussions with the CC4ALL team to provide user feedback, discuss specific product features and tackle any operational challenges, helping further refine the platform to meet their requirements.
Read reference story in PDF