Transforming a European Capital: A citizen-centric revolution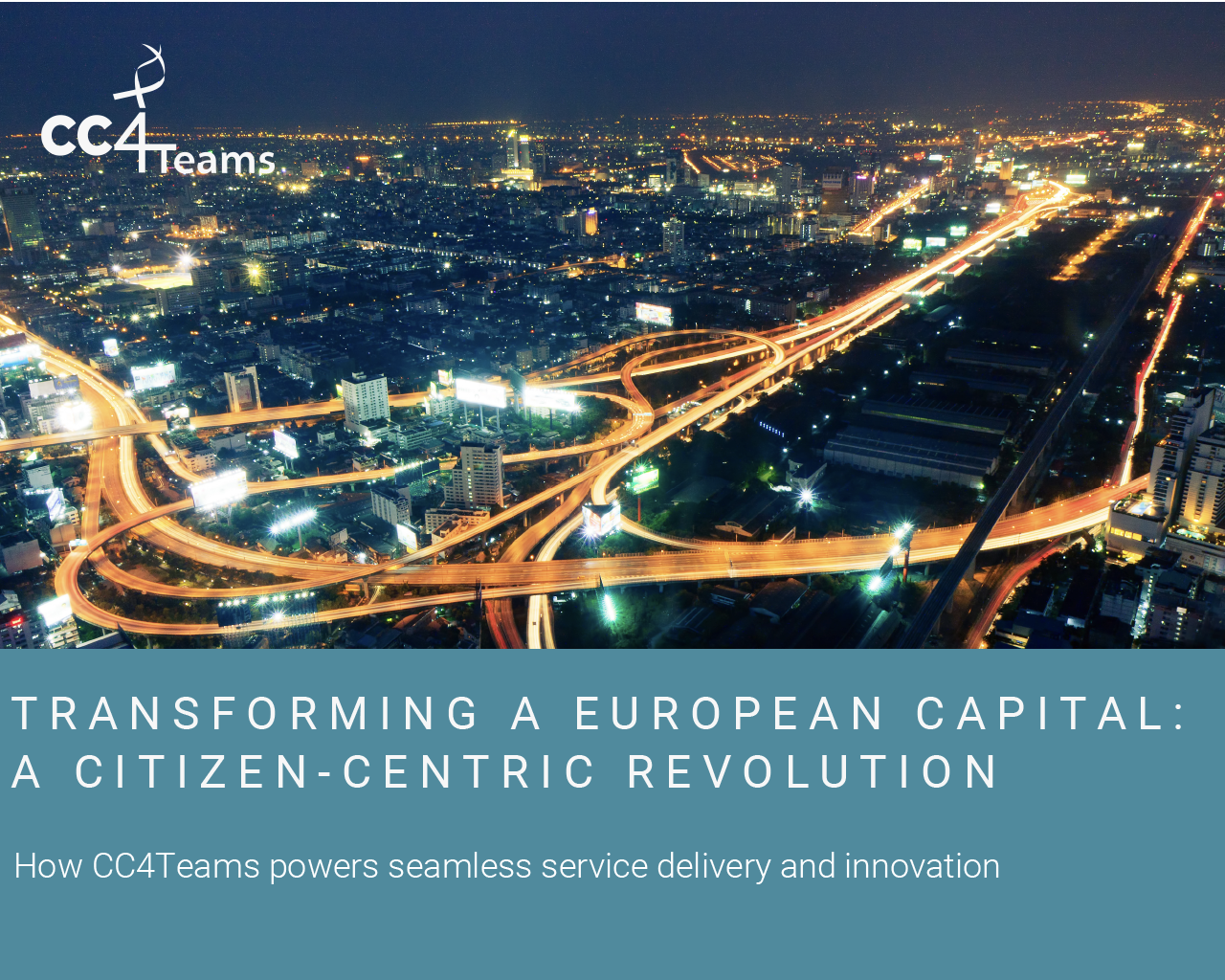 How CC4Teams powers seamless service delivery and innovation
The vision: Citizen-centric approach

In Autumn 2022, a major European capital city embarked on a mission to become a modern, citizen-centric metropolis. With a strong focus on meeting the diverse needs of its residents, businesses, and commuters, the city aimed to provide tailored products and services while ensuring a seamless experience. Transforming a European Capital: A citizen-centric revolution
To achieve this vision, the city underwent a significant transformation by relocating most of its administrative services to a state-of-the-art facility at the city center. This move marked the beginning of a new era characterized by efficiency, innovation, and a solid commitment to serving its citizens. Transforming a European Capital: A citizen-centric revolution
Key principles: Integration and efficency
Key elements of this transformation included:
-Integration of Microsoft Dynamics and PowerBI
-Omni-Channel service delivery
-A citizen-centric approach
-A commitment to digital efficiency
These principles guided the city's strategic program, which aimed to revolutionize how it delivered services to its citizens.
One fundamental aspect of this program was the adoption of an Omni-Channel approach. This approach allowed citizens to choose their preferred communication channels, whether digital, physical, written, telephone, or social media. These channels must be seamlessly integrated, ensuring a consistent user experience regardless of the chosen channel.
The city's goal is to become a unified and integrated front office, offering its users a wide range of services. The new Customer Contact Center played a crucial role within this integrated front office. This center was a hub for handling telephone inquiries, correspondence, emails, and social media interactions.
Implementing this integrated Customer Contact Center represented a significant change for the city, highlighting the importance of expertise and team coaching. Integrating this technology within the city's ICT architecture was essential, with a modular architecture that included central data management and various functional modules.
Omni-Channel approach
The Customer Contact Center was more than just a call center; it was a single point of contact accessible through multiple channels. It processed scanned correspondence and managed city email inquiries through a CRM system. In addition to traditional phone service, the center planned to expand its services to include chatbots, SMS, WhatsApp, and more, all aimed at providing a citizen-centric experience.
The city aimed to provide one central contact number to ensure citizens could easily access services. This service operated during designated hours and met predefined service levels, seamlessly integrated with the new Civil and Economic Relations Department.
The three pillars of service
The city's comprehensive service provision relied on three pillars:
-The transversal 'Front Office' answers questions efficiently through various channels.
-The 'mid-office' focused on information and knowledge management.
-The 'back office,' which involved multiple city departments and services.
To make all of this possible, the city selected CC4Teams as its Customer Contact Platform. This choice allowed for the creation and operation of virtual agents, making it easier than ever to serve and engage with its citizens effectively.