Nuvola Distribution Announced as Distribution Partner for CONTACTCENTER4ALL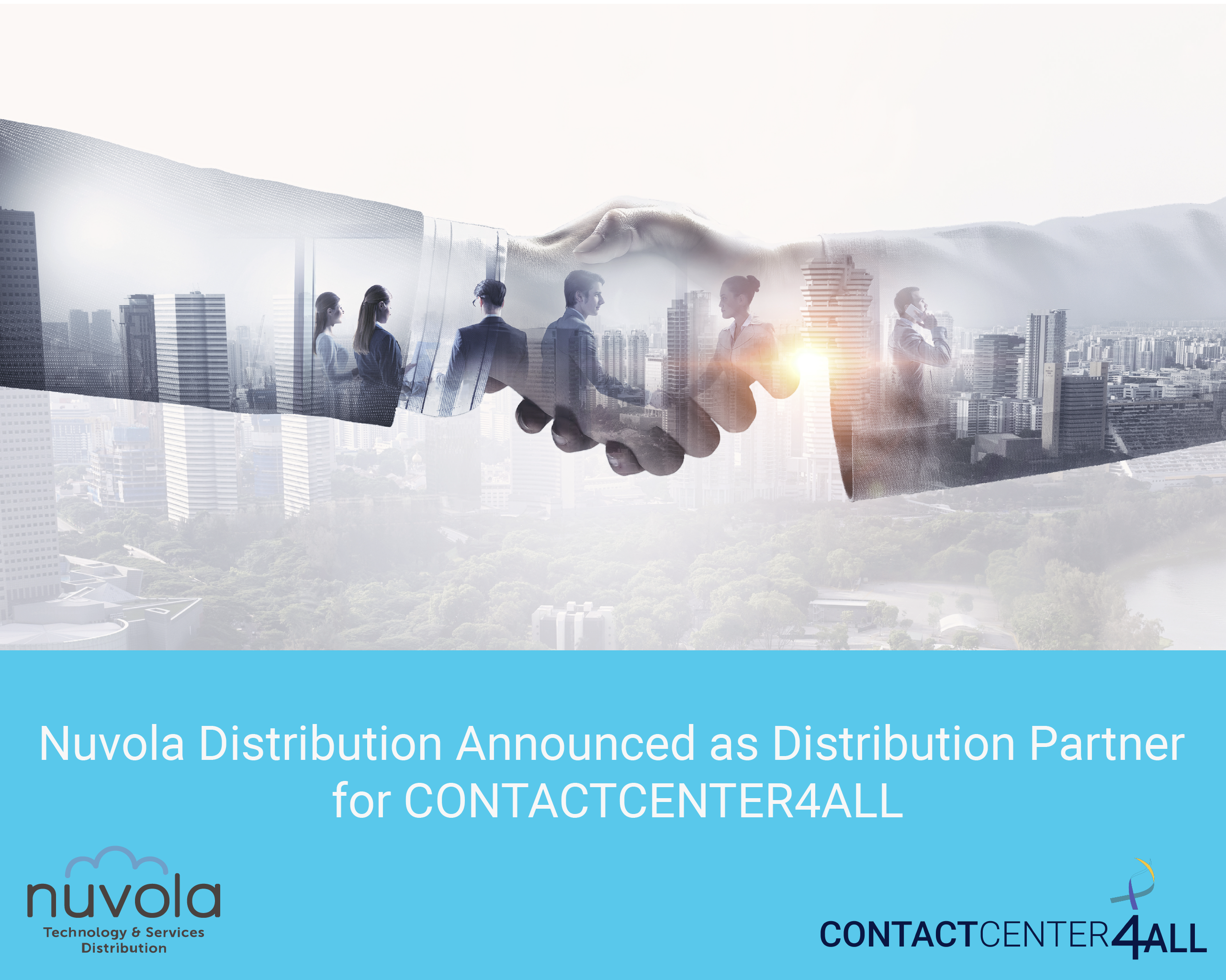 Reading, United Kingdom — 1st December 2022 — Nuvola Distribution Ltd, a leading Technology and Services Distributor that provides unified communications, network, data, WiFi, and audio-visual solutions from world-renowned technology vendors, announces a new Distribution Partnership.  Nuvola will now distribute CONTACTCENTER4ALL, a global provider of Contact Centre solutions for Microsoft platforms and an official Microsoft Partner.
"With the ever-increasing demand for virtual working, we are constantly identifying opportunities for contact centre solutions. Those CCaaS (Contact Centre as a Service) solutions that integrate with Microsoft Teams are imperative, but of increasing importance, we see the need from end-users for omnichannel deliverability. The CC4Teams solution from CC4ALL delivers on all these fronts, and we are thrilled to add them to our ever-evolving distribution portfolio."

Michael Lloyd, chief executive officer of Nuvola Distribution.
Nuvola will act as an approved Distribution Partner for CC4ALL in the UK and the Republic of Ireland, engaging with channel partners to deliver CC4ALL solutions that include CC4TEAMS, CC4Skype, CC4Dynamics, and power BI Contact Centre reporting. At Nuvola our Professional Services team offers a full suite of services around CC4ALL deployments and installations from our extensively trained and certified engineering team.
CC4Teams is natively integrated into the Teams client to create a feature-rich cloud contact centre solution fully certified by Microsoft with omnichannel capability that includes social media, email, web chat, and call offerings supported by robust analytics.
"There's a major expansion in Microsoft Teams adoption as many businesses adapted to hybrid working," said Cees de Jong, CEO at ContactCenter4ALL. "Organisations now realise various specific features are required to transform the Teams platform into a full-service hybrid contact center. CC4Teams allows agents to access all functionalities of a modern contact center through Teams from any location, often at a lower TCO than traditional solutions."

Cees de Jong, CEO of CONTACTCENTER4ALL
About Nuvola Distribution
Nuvola Distribution is a leading technology and services distributor of unified communications, network, data, cloud, wireless, and audio-visual products. Nuvola provides an integrated portfolio of hardware, software, and professional services. We deliver consultancy, installation, engineering, after-sales support, and MaaS (marketing as a service) for our world-renowned ICT vendors and reseller partners in over fifty countries worldwide. Our logistics centers are based in the United Kingdom and the Republic of Ireland and deliver technology solutions to our reseller partners and their clients across the globe. Nuvola's partners include 8×8, Adaptiv Networks, Alcatel-Lucent Enterprise, AVer, and CC4ALL. Gamma, Garland Technology, i3-Technologies, Ingate, JPL Telecoms, LiveAction, Luware, Mitel, NFON, NICE, Poly, RingCentral, Sangoma Technologies, Vurella, and Yealink.
About ContactCenter4ALL We are a team of contact center experts with a shared goal; to connect people, shape the industry, and make an impact. Therefore, you could say that we are the ambassadors of conversations. To have a meaningful conversation, you need to connect companies with their customers, schools with their students, hospitals with their clients, you with us.
With CONTACTCENTER4ALL, it is easy to connect and have a conversation… on any channel, anywhere, anytime. CC4ALL software is natively developed for and certified by Microsoft. It is easy to use and manage and will provide clear and easily retrieved insights. So connect with us; we will proudly show you our solution in a personalized demo.
PR Contacts:
Catrina Ure | Marketing Manager | Nuvola Distribution
cure@nuvoladistribution.com
Tel: +44 (0) 1628 906 010

Willeke Hellenthal | Marketing Manager | CONTACTCENTER4ALL
willeke.hellenthal@contactcenter4all.com
+31 8826 80707