Move on up… to the cloud: The COVID effect on contact center operations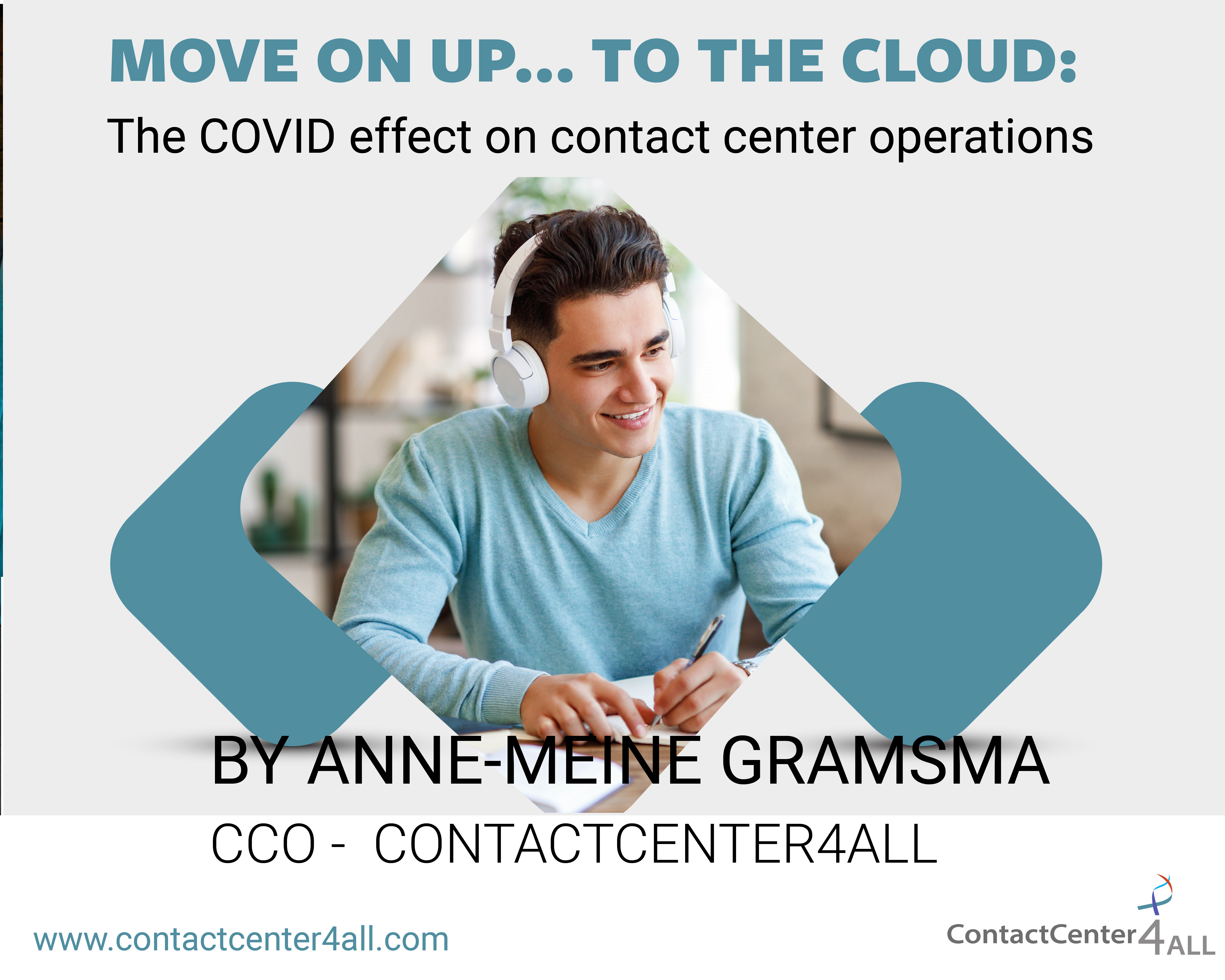 Move on up… to the cloud: The COVID effect on contact center operations
Since the COVID-19 outbreak, remote working has become the new normal for businesses around the world. This has started the hunt by organizations for a new working model. Many are now under pressure to find a migration approach that allows business to carry on as usual, without incurring heavy costs in the process.
Recent analyst research shows that public cloud spending has increased to $10 billion, while traditional infrastructure has seen a 16.3% decline. Contact centers in particular, many of whom have been using Skype for Business, are exploring cloud-based platforms such as Microsoft Teams to support their operations.
So cloud looks to fit the bill – but does it? As nation-wide lockdowns ease and businesses evaluate a move to the cloud or a hybrid working model, many contact centers are exploring the advantages of cloud-based collaborative solutions, such as Teams.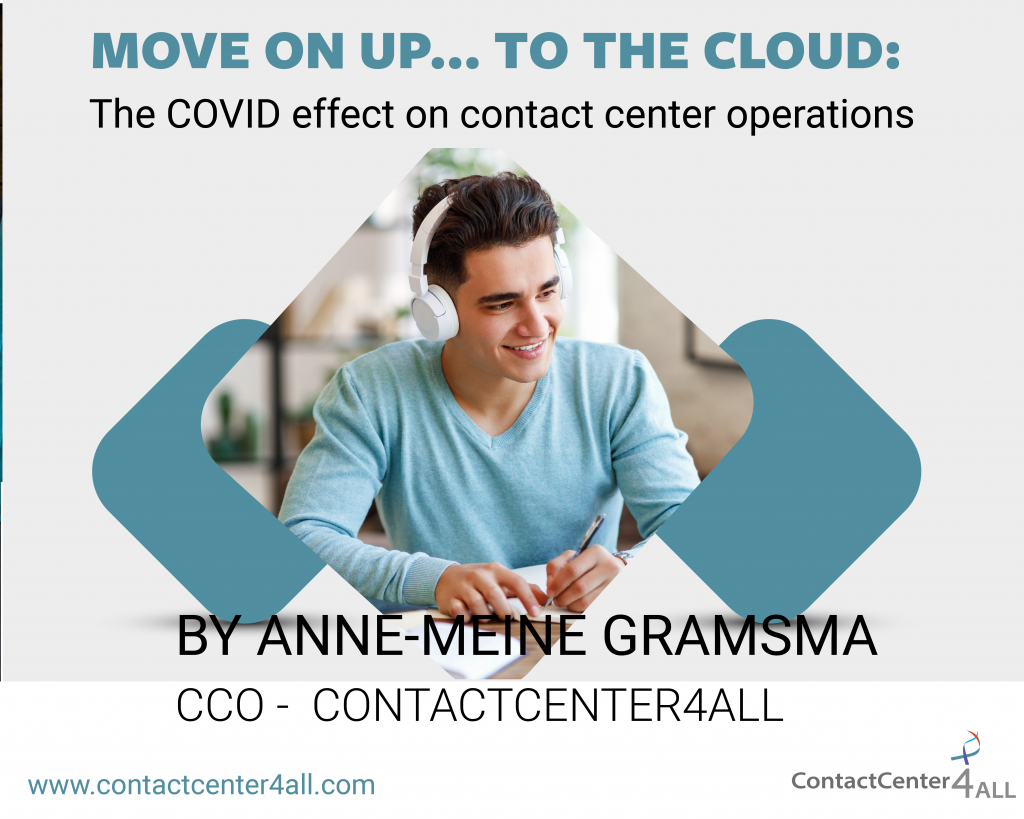 Popularity for Teams increases amid calls for greater collaboration
The recent global pandemic has given Teams the chance to enhance its platform and meet the new demand for more collaboration between remote users. With Teams' daily users almost doubling between March and April 2020, it's clear to see the decision to prioritize user experience is paying off!
In fact, the phase-out of the Skype for Business service can be tied to the platform's recent popularity. With more users enjoying the easy deployment and technical improvements offered by Teams, the decision to shift from one Microsoft platform to another seems a no brainer for many companies.
Don't be too quick to replace your platforms
When shifting from Skype for Business operations to Teams, it is important to consider the impact on operations. This is why many businesses adopt a phased migration strategy that allows them to assess department suitability and workflow changes before taking the plunge.
As cloud-based deployment can make the transition to Teams very fast, taking the time to outline potential operational changes with a trusted partner ensures the transition between platforms is fast and efficient.
A phased strategy also allows companies to achieve a seamless transition without losing money from previous systems. For instance, companies that identify systems and departments to shift early on and legacy systems to retain will avoid the need to disinvest from an existing deployment.
A phased migration should be cost neutral – you can pay as you go
When companies make the transition from Skype for Business to Teams, some contact center solution vendors try to push for multi-license platforms during the phased migration stage – but don't be fooled!
With a fit-for-purpose partner, the shift between platforms should not only be time-efficient but also fully cost-neutral. CC4ALL, for instance, offers a 'pay as you go' model, which gives businesses the flexibility to migrate in a staggered manner and the ability to scale up capacity during periods of high demand.
Contact centers must ensure they move to a better, feature-rich cloud solution
To meet the high level of customer experience that today's consumers expect, contact center operations require their Unified Communications platforms to include integrated software with dedicated features.
To address these new business demands, many companies are working to add extra functionalities. For example, Microsoft has expanded its Graph API and further features will be added by solution developers once previous features reach their full potential. Contact center solution vendors like CC4ALL are also introducing features for call queue monitoring, call recording, interactive voice response and reporting on top of Skype for Business and Teams.
These developments are driven by the need to ensure agents and the end-customer receive a consistently high-quality contact center experience. For instance, our development pipeline includes key contact center features such as omnichannel communications and further supervisory and operator capabilities. These advanced features allow supervisors to listen in to agent-customer interactions and assist on particularly complex queries.
CC4ALL has already successfully helped businesses across the world from multiple industries deploy integrate Teams and the CC4Teams solution – so why not give it a go?
Put in place your remote contact center strategy before a second wave strikes
As many parts of the world brace for a second COVID wave, companies need to take the time to apply the lessons learned and re-learned during the pandemic to future operations. Now more than ever, setting up contact center facilities with remote working capabilities should be a top priority for companies if they want to avoid further disruption during a second COVID wave.
Proven Unified Communications platform such as Teams will be central to the success of any remote contact center strategy, offering an easy to deploy, cost-effective framework on which to build and develop a first-class contact center experience.
Anne-Meine is Chief Commercial Officer at ContactCenter4ALL