Revolutionizing customer contact enablement: unleashing the power of CC4Teams Extended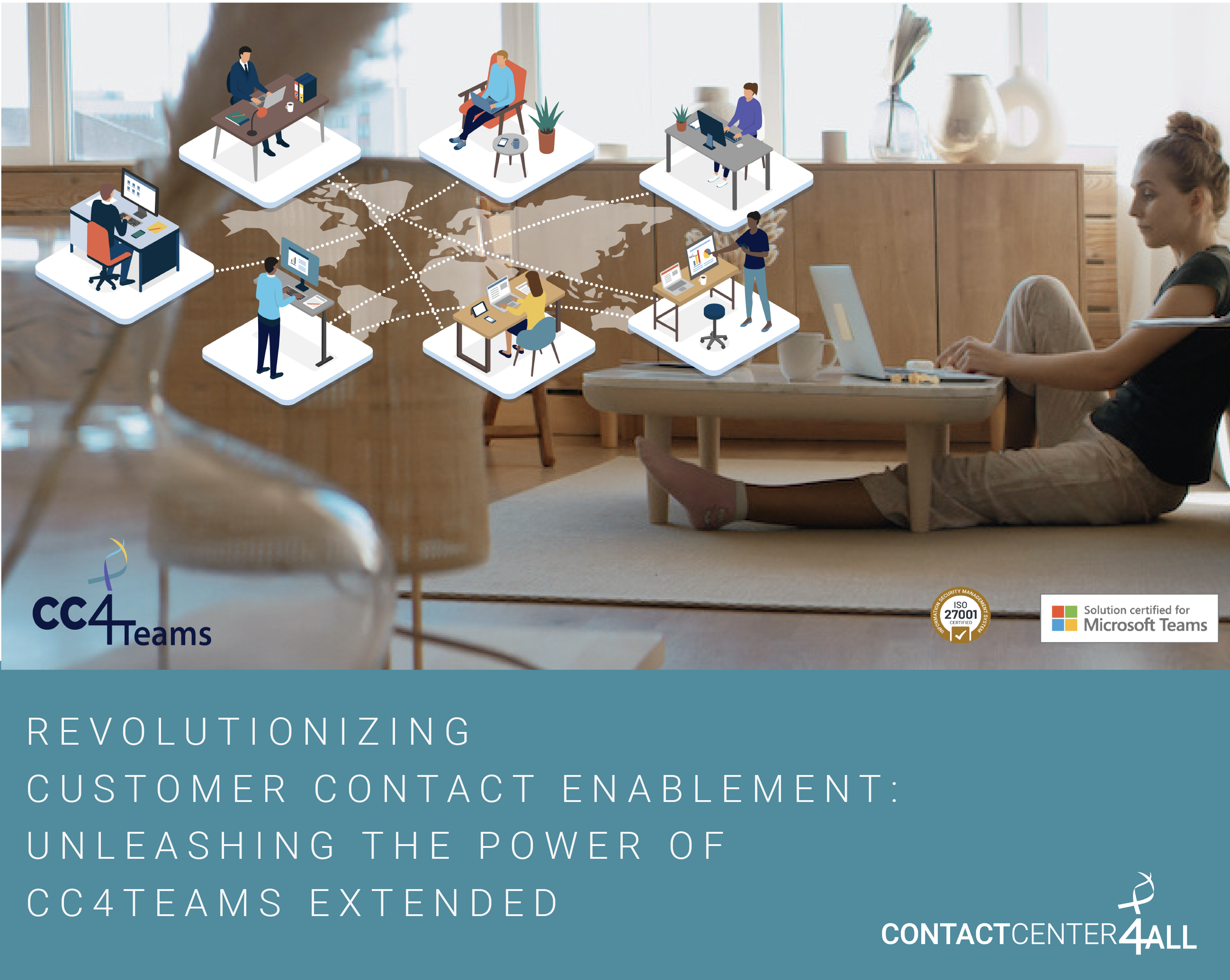 Revolutionizing Customer Contact Enablement: Unleashing the Power of CC4Teams Extended
"Your Contact Center Natively Integrated in Microsoft Teams" is a description that many providers use to describe their system. All providers are natively or fully integrated into Microsoft Teams, but are they? And what does that even mean? When is a contact center Natively Integrated into Teams? Or why should they be?
Let's clear up some of the confusion
There are three approaches to integrating into Microsoft Teams: Connect, Extend, and Power, of which the latest is still in development by Microsoft. As did CC4Teams Connected, CC4Teams Extended offers a one-app, one-screen contact center experience. But, for now, the Power model is a promise for the future as it is still a theoretical framework.
Teams and all its functionality as it becomes available is embedded in a third-party app, which is 'powered' by Teams. CC4Teams remains at the forefront of developing the contact center of the future, and it will continue to evolve alongside the Teams and Microsoft ecosystem, which will embrace the Power model already in development.
Back to basics: Connected vs Extended
Contact Centers that use the Connected model for integration use Direct Routing to link their contact center solution to PSTN and Microsoft Teams. To get technical, they use SIP connectivity and Graph APIs to retrieve presence from Teams. However, this design can also lead to latency issues and the possibility of losing quality for both voice calls and media.
Now, let's explore the Extended model, which is most relevant for businesses today. The CC4Teams Extended is a complete omni-channel contact center in a box – easy to use, easy to manage, and provides easy Insights.
Visit the website to find out what solutions are Microsoft Certified for the Extended model.
Extended Contact Centers are developed on and exclusively for Microsoft Teams. The model allows Contact Centers to integrate via the Cloud Communications API (part of Graph APIs) for presence status, call functionality, routing, and call handling. Most importantly, all data remains in Microsoft Azure; therefore, Microsoft itself covers everything from security to encryption making call handling compliant with GDPR and data policies. This might be particularly of interest to companies that do not want to work with AWS- for data and security reasons-
CC4ALL Extended: A Microsoft-certified contact center solution
You may have read our announcement confirming that CC4Teams has been certified as an Extended contact center solution by Microsoft's official Extended Model certification. The first release for CC4Teams Extended was back in November 2022, with basic features. Now CC4Teams Extended is a full onmi-channel solution with all the needed features, including voice functionality, cherry-picking, hold and transfer to persons or queues, advanced IVR, compliance recording, and PowerBi reporting.
The Microsoft Contact Center Certification Program verifies that each participating provider's solution provides the quality, compatibility, and reliability they expect from Microsoft solutions.
Contact center integration for Microsoft Teams allows Contact Center as a Service (CCaaS) solution providers to integrate their solutions into Teams and drive a better agent and end-customer journey with improved workflows and business tools. It's all about having more in one place and ensuring contact centers have the modern technology to streamline interactions, equip agents with powerful tools and resources, and gain real-time insights to enhance performance and make data-driven decisions. Boost agent confidence, reduce friction, and easily deliver exceptional customer service. -Empower your teams, and delight your customers with CC4Teams
Automate repetitive tasks, provide quick access to customer information, minimize response times, increase productivity, and foster personalized engagements.
A deeper dive into the business benefits of Extended
There are some specific advantages to using the Extend model for businesses. Extend model solutions, such as CC4Teams Extended, are built exclusively for and will only integrate with Microsoft Teams using the newest Cloud Communications Graph APIs – meaning, it's a fully integrated solution. In fact, over 300 integrations of advanced features are possible with CC4Teams Extended. Extended contact centers are highly beneficial for companies that follow a one-platform strategy with Microsoft Teams or are in the process of adopting a Microsoft-only approach.
Hybrid working is here to stay: Extended ensures blackouts and downtime are a thing of the past
At CONTACTCENTER4ALL, we know the importance of providing excellent customer experiences – CC4Teams empowers businesses to cultivate lasting customer relationships and drive exceptional CX by prioritizing user satisfaction and seamless interactions.
And in today's hybrid world, reliable new communication platforms have become pivotal for keeping customer satisfaction high. That's why with CC4Teams Extended, contact center agents can make and receive both internal and external calls, emails, and webchat and social messages, and with intelligent call routing, Ai capabilities, PCI-compliant call recording, and video calling. CC4Teams Extended solves many pain points organizations feel while transitioning to remote or hybrid contact center operations to maintain quality and compliance.
But it's not all
CC4Teams Extended uses Geo Redundancy to ensure system downtime is a bygone. Geo redundancy ensures that if one server in a region somehow stops working, there is an automatic new connection with the closest server. With over nine servers available, system failure is extremely rare – but in the unfortunate event, contact centers can rely on a new automatic connection to ensure zero downtime.
CONTACTCENTER4All is the authority when it comes to customer contact enablement. Our primary goal is to provide exceptional customer experiences with minimal friction for our customers – and their customers. We understand the importance of seamless interactions and aim to make every customer contact great. Delighting your customers – is our goal.
Our expertise and industry knowledge enables businesses to optimize their customer service operations. We leverage advanced technologies and innovative strategies to streamline processes and enhance communication channels. ContactCenter4All is your reliable partner in achieving customer service excellence and creating meaningful connections with your customers.
Contact us for more information or a personalized demo of CC4Teams
CONTACTCENTER4ALL
Revolutionizing Customer Contact Enablement: Unleashing the Power of CC4Teams Extended