Will you be attending the Call and Contact Center Expo, Las Vegas, 16-17 March?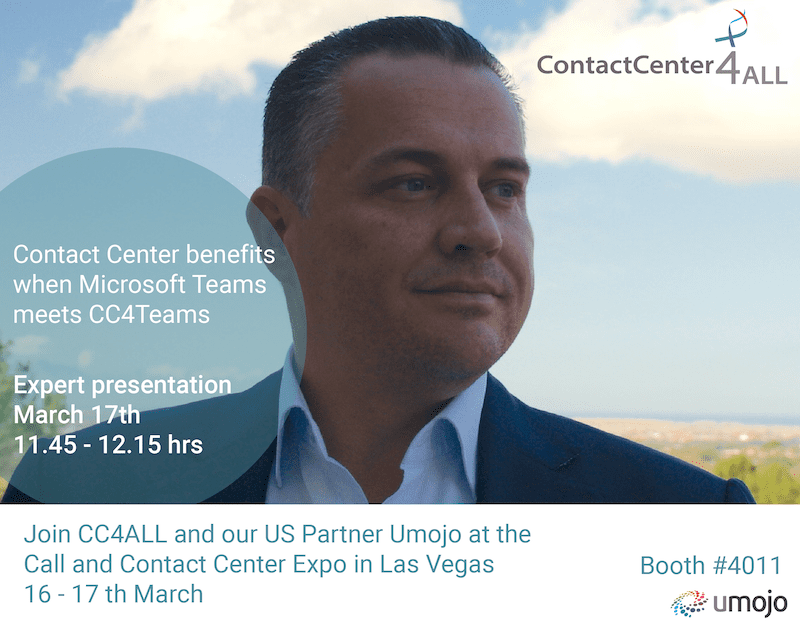 Find out how to take your customer service to the next level at stand #4011
Simply offering a product or service is no longer enough. The focus rests on delivering an 'experience' and for organizations in the contact center space, this is now top of the agenda. If your customer experience (CX) offering feels a little dated, then you should visit Call and Contact Center Expo (CCCE). The industry's showcase of all that's best in call center technology, including our very own CC4ALL solution, is taking place this year in the bright lights of Las Vegas.
From 16-17 March, you can find the CC4ALL team there in partnership with Umojo to showcase our powerful contact center capabilities, live at the Las Vegas Convention Center stand #4011E – including an expert presentation from our Business Development Director, Arjan van den Berg.
CCCE is all about the future of contact center technology. That's why we're going to be there – because the contact center of the future has already arrived with CC4ALL and Microsoft Teams.
Whenever, wherever – working with Teams just got an upgrade!
CC4ALL solutions have developed in scope and power as Microsoft has developed its offerings, We started off with a platform that provided a native Skype for Business contact center solution, but as Microsoft evolved, the stage was lit for Teams to make its move and we developed our CC4Teams solution.
With CC4Teams, your contact center is wherever you want it to be! We're well-positioned with our solution to offer 24×7 business continuity, no matter the situation – providing businesses with only the features and functions they need to focus on what's important. Built with collaboration and communication in mind, CC4Teams is natively integrated with Microsoft Teams, and will work seamlessly in your existing Microsoft Teams environment.
The benefits are two-fold. CC4Teams adds the critical functionalities that a contact center agent needs. For instance, agents can access the team's complete knowledge base, or use the Teams chat to discuss topics between agents. All chats from team members will be easily accessible from one central location, improving efficiency and time spent searching for answers.
New consumer insights unlocked: the power of webchat and social media on show
Today, conversations between consumers and agents still primarily take place on the phone – but channels such as webchat and social media are on the rise. An omnichannel solution capable of transforming the customer service experience and journey will be crucial. With integrated AI, text and speech can be analyzed, offering unique insights into customer contact and agent efficiency.
Don't overlook the fundamental principles of call routing – getting it right first time is key
We take call routing very seriously here at CC4ALL, as being directed to the wrong agent is the number one reason for consumers hanging up. All channels, from social media and voice to email or webchat, will be powered by the same engine, meaning that all conversations will be directed to the right agent at the first point of contact.
Then check out these new features – from cold and warm transfers to BI
CC4Teams provides users with the same familiar screen and Teams solution, but with a host of features that turn the platform into a complete contact center. Your customers can connect with you through any channel – CC4Teams will route them to the best available agent, and your integrated CRM system will recognize the customer and follow their journey. CC4Teams adds cold and warm transfer, call recording, IVR, operator attendant, historical and real-time reporting integrated with Microsoft PowerBI, home workers, and many more. It is easy to use, easy to manage and provides easy insights. And of course, when you are ready to make the switch, we make sure this transition is effortless and smooth.
The CC4ALL development team continually refines and enhances the CC4Teams solution based on close collaboration with our partner and customer base – so there's more to come – watch this space for powerful new capabilities coming to the platform soon.
We'll see you in Las Vegas!
If you'd like to find out more about how CC4ALL and CC4Teams can help transform your customer service offering, visit our website – or why not visit us at the Las Vegas Convention Center? Find us alongside our partner Umojo at stand #4011.