CONTACTCENTER4ALL now seamlessly integrates with the Voice365 Suite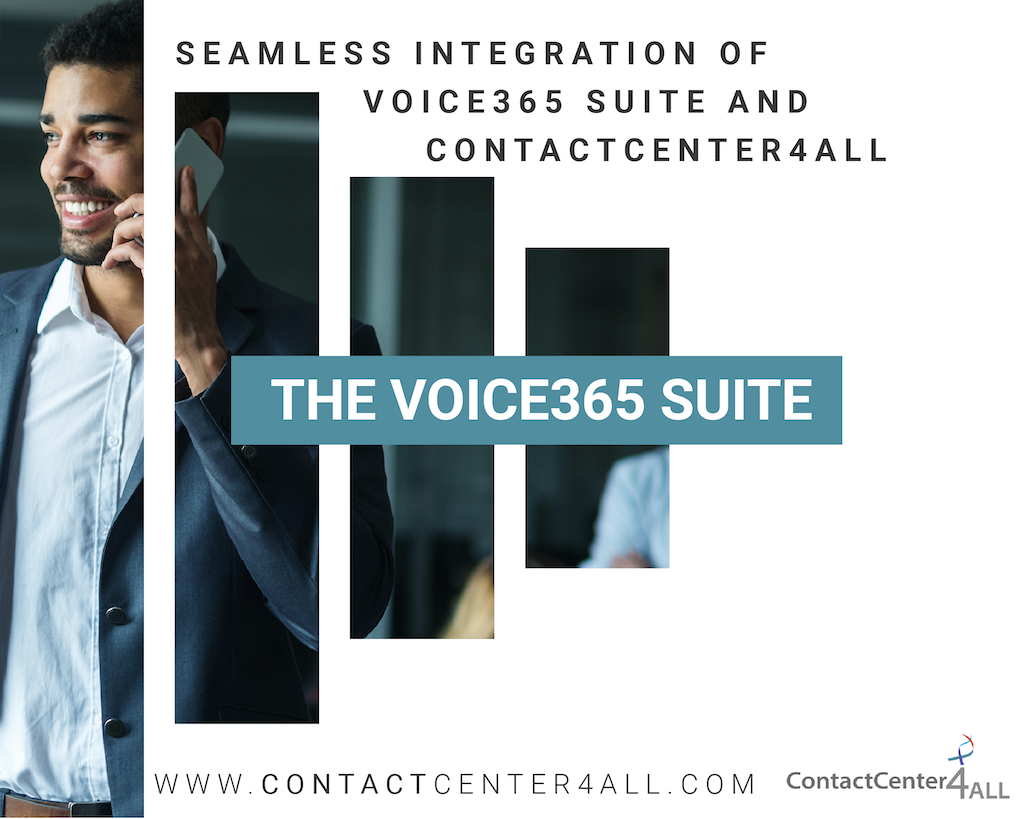 oneCentral expands Voice365 with the omnichannel contact center solution CC4Teams from ContactCenter4All. CC4Teams can now be integrated as a SaaS solution in existing Microsoft environments and combined with traditional telephony.
In this way, contact center employees can continue to work in their trusted Microsoft Teams and at the same time benefit from additional contact center functions.
CC4Teams is a solution from the Dutch company ContactCenter4All. With CC4Team, contact center employees quickly overview incoming phone calls; they can also route calls, consult colleagues' calendars, create callback notes, and much more. They can communicate with customers via telephone, webchat, social media, email, or WhatsApp within the application.
Teams and telephony work together
Thanks to Voice365, CC4Teams is now available with traditional telephony as well as in Microsoft Teams through its collaboration with oneCentral. Voice365 is an oneCentral service that connects Microsoft Teams and existing telephony and collaborates with other communication tools. oneCentral supplies Voice365 through partners and certified Microsoft resellers. Voice365 offers an integration that, according to Marius Savelbergh, MD of oneCentral, is very valuable for Microsoft Partners.
"Employees of companies and organizations can now make and receive calls more easily by telephone and via Teams from a contact center application. Many organizations struggle with this challenge, and IT service providers and telecom resellers can now implement it very easily. At oneCentral, we understand that offering and rolling out telephony requires different expertise, and that is why we are happy to support resellers and partners in the implementation of this service."

Marius Savelbergh, MD of oneCentral
The strength of contact centers
ContactCenter4All has been working with Microsoft's unified solutions since 2013 and is now collaborating with oneCentral to provide advice, training, support, and integration to organizations. According to Anne-Meine Gramsma, CCO of ContactCenter4All, a contact center is crucial for managing customer relationships' complete lifecycle.
"The strength of contact centers is to handle customer inquiries as effectively as possible and through multiple channels. Therefore, companies must be able to communicate by telephone, chat, email, WhatsApp, and social media."

Anne-Meine Gramsma, CCO of ContactCenter4All
It is the only way contact center agents can either answer customer queries quickly or route them to the company's best available person or department. A good contact center has a significant effect on customer and employee satisfaction and leads to cost reductions because customers are served better, faster, and more efficiently.
About oneCentral
oneCentral has been enabling cloud communication for over 14 years. With the philosophy that there is no one-size-fits-all and that everyone deserves to have the experience that best suits their needs. To this end, oneCentral works closely with the larger suppliers and integrators to guarantee the most stable solutions through certification, continuous monitoring, and clear reports.
The self-built platform can enrich products through smart integrations and third-party services. oneCentral is successful both nationally and internationally in various sectors, including retail, transport, healthcare, and municipalities. We are open to new partnerships to build communication solutions for customers that positively impact their business processes.

For more information, visit: https://onecentral.nl/
Or contact: meeuwis.vermeer@onecentral.nl
About CONTACTCENTER4ALL
With CC4ALL your Contact Center is wherever you want it to be! Picking up the phone from 9 to 5 just isn't enough anymore. You need to respond to your customers' channels of choice, any time of the day. Just add CC4ALL to Microsoft Teams, Microsoft Dynamics or Microsoft Skype for Business, and you are ready for the future.
Give your Contact Center some space! All you need is WiFi and Microsoft Office 365, and your Contact Center Agents can work wherever they need or want to. No boundaries use your browser as a phone. Simply plug in your headset and start working! Your customers can connect with you on any channel and your system will recognize that customer, and route them to the best available agent.

For more information, visit: https://contactcenter4all.com/
Or contact us via:
marketing@contactcenter4all.com
+31 8826 80700