140 years of Telephony in the Netherlands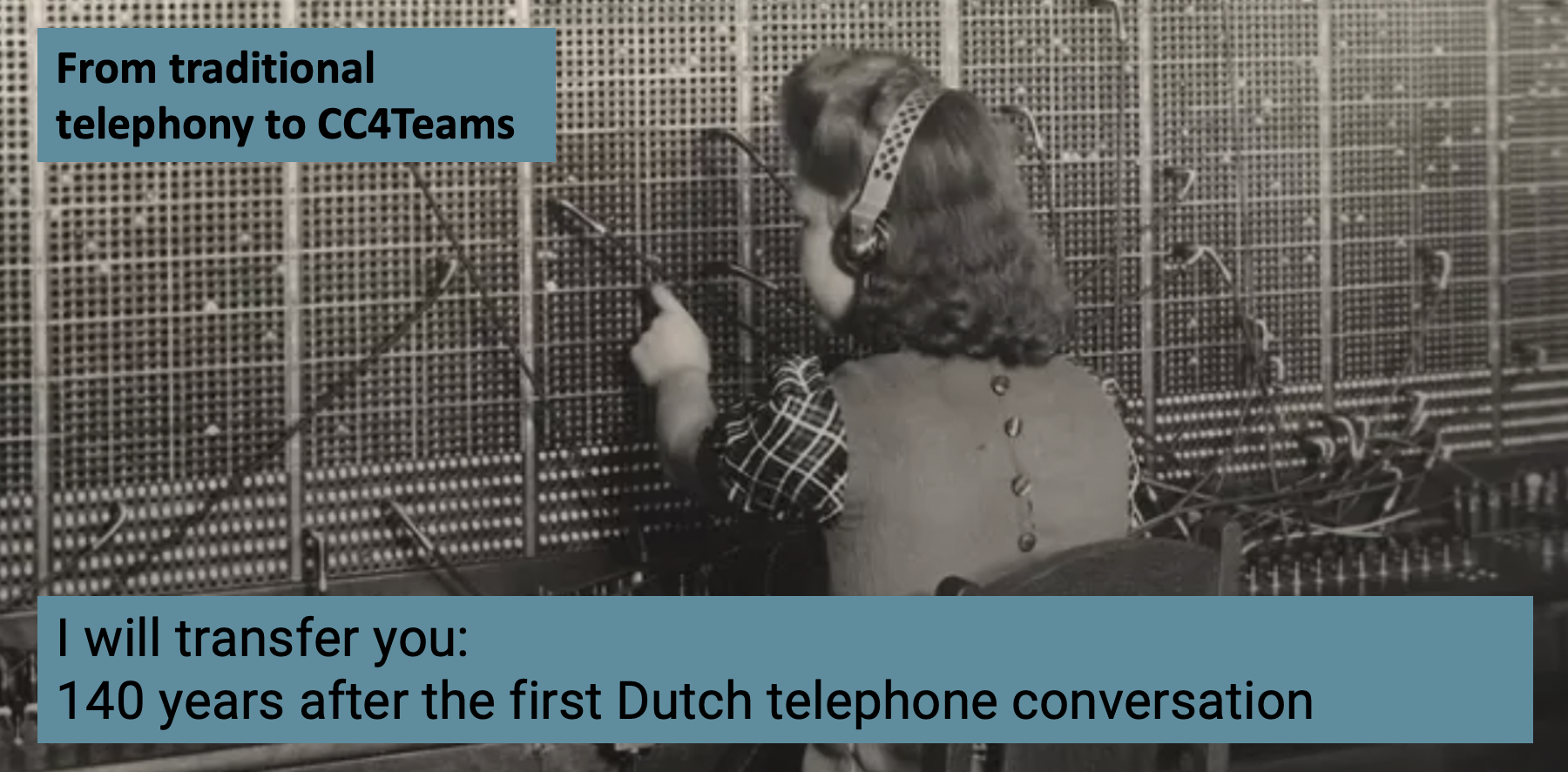 From traditional telephony to CC4Teams
This week it is 140 years ago that the first telephone conversation was established in the Netherlands. Although telephoning was very different in 1881 than it is today, little has changed fundamentally.
It is not clear what exactly the first words of the telephone conversation were 140 years ago. "I have not been able to find any recordings or observations of this," says Anja Tollenaar, curator of Communication Culture at Sound and Vision The Hague. It is likely that the operator's words "I'm putting you through" came in, but it's not clear what the caller and recipient said.
This first telephone meeting took place in Amsterdam. The Nederlandsche Bell-Telephone Maatschappij (NBTM) opened the first Dutch telephone exchange there in 1881. A switchboard operator worked at the switchboard, who could bring 49 company subscribers into contact with each other by always sticking a plugin in the right place in a switchboard.
"The telephone was a special thing and very innovative," says Tollenaar. "Initially, it was mainly used by people who had business conversations; it was not immediately a household commodity."
Source:NU.nlhttps://www.nu.nl/tech/6136835/ik-verbind-u-door-140-jaar-na-het-eerste-telefoongesprek-in-nederland.html
Shift to the cloud
Today, companies have shifted from this traditional phone system and are using cloud-based systems such as Microsoft Teams for all in and outbound calls. Contact Centers have also, strategically, moved away from traditional phone systems. For them an addition to Teams is necessary, as they need Omni-channel functionality such as cold and warm transfer, call recording, historical and real-time reporting, wallboards, home workers, operator, and supervisor settings. These and many other features are added natively by CC4Teams. We have created the perfect addition to your Microsoft Teams environment. 
All on the same screen that you've been working with already.
Sounds easy? It is!
Join our webinar on June 9th, 15.00hrs CET
This live webinar will be streamed from the Microsoft studio.
Remco de Kramer from Microsoft will talk about Microsoft Teams' advantages and trends and near-future developments and trends in the webinar.
Anne-Meine Gramsma from CC4ALL will discuss the benefits of adding CC4Teams to create a fully functioning Omni-Channel Contact Center and show this live on stage.
Long-time CC4ALL customer Helmut Jansen van Kampmann Group, who recently migrated from CC4Skype to CC4Teams, will discuss the benefits from a customer's perspective.
Remco and Anne-Meine will be talking with Helmut about the introduction of Microsoft to Kampmann Group, the initial transition period, and the benefits they reap daily. Working with CC4Skype initially and Cc4Teams has changed the daily routines at Kampmann Group and how this has changed/improved cx.