Smiles all around at CC4All's Partner Days 2022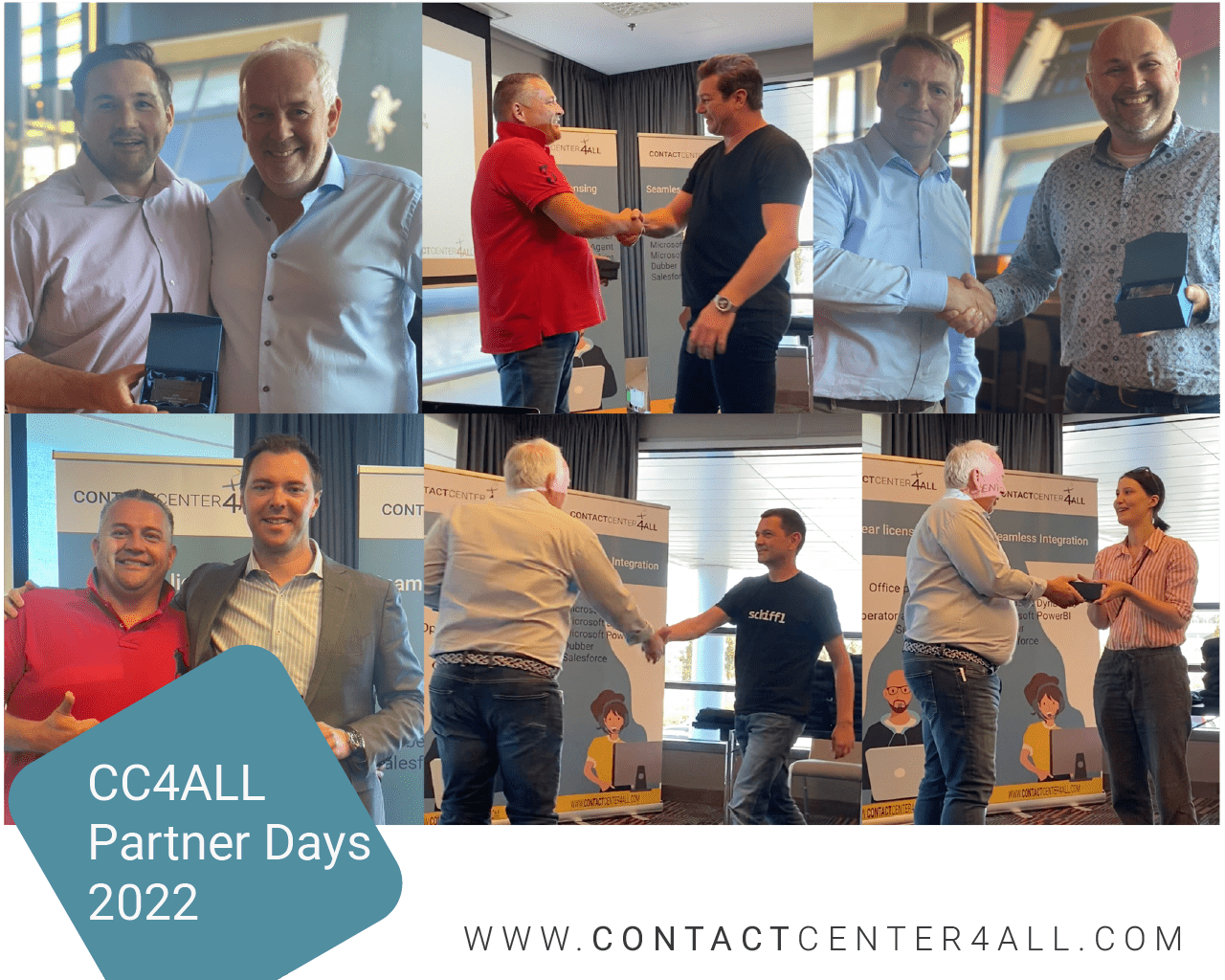 Smiles all around at CC4All's Partner Days 2022
June 2022
---
It was certainly smiles all-around at this year's  CC4ALL Partner Days event.
It was great to meet our Global Partner Network at our first live event for two days of sharing knowledge, collaboration, and networking. We included a boat trip through the beautiful canals of Amsterdam for some well-deserved leisure time.
Our Partner Days were also an excellent moment to show our deep appreciation to our global network of partners, who help us deliver our easy-to-use, natively integrated solutions.
More and more CC4Teams is recognized across the globe through the hard work of our strong partner network and their representation at industry events.
So, we were delighted when our U.S.-based Partner, Umojo, took part in the Call and Contact Center EXPO in Las Vegas with us in March, and our Australian-based Partner, MIA Distribution, took part in The Customer Show with us in Melbourne in May. And were even happier to have both join us in Amsterdam after the rather long journey!
The partner event also provided the opportunity for us to recognize some of the top contributors across the truly international CC4All partner base.
Customer expectations are on an upward trajectory – and so is CC4Teams
The pandemic has been a driving factor in the demand for more integrated and more advanced customer contact solutions. The onset of hybrid working and social distancing, paired with increased customer expectations, has given rise to the need for quality digital interactions from a seamless omni-channel contact center presence.
As a result, Microsoft Teams exploded onto the marketplace, offering flexible and remote cloud-based services for changing user demands and business continuity – and is taking CC4Teams with it.
Microsoft Teams users increased from 18 million to 270 million in the space of just two years. And that's not all; Microsoft Teams is set to grow even more – with market share expected to double in 2022.
As CC4Teams builds upon Microsoft Teams, it has been in an ideal position for growth.
Hitting new heights together
As a result, CC4Teams has become high in demand, gaining 10-12 new customers monthly. To top it off, new CC4Teams users have increased 40-fold since 2019 alone, with plenty of new A-brands joining our client list.
None of this would have been possible without the help of our partners' exceptional work, enabling us to operate across North America, EMEA, APAC, and now also South America.
So, here's a cheer for all the hard work of our partners, we really appreciate all that you do, and we couldn't have gotten to where we are without you.
This is why our Partner of the Year Awards are here; to recognize and reward outstanding success. Each Partner plays a different part in the success of CC4Teams, so we have several categories to represent exceptional performance in each area.
The Winners of the Partner of the Year Awards:
There's a comprehensive run-down of the awards here.
Moving forward, we will continue developing the CC4Teams solution and support businesses in providing an enhanced customer experience. To achieve this, we will continue to foster close relationships with our trusted partners.
We look forward to another fantastic year and seeing everyone again at our next Partner Days!
#BuilidingAFamily