Pandemic no longer an excuse for poor customer service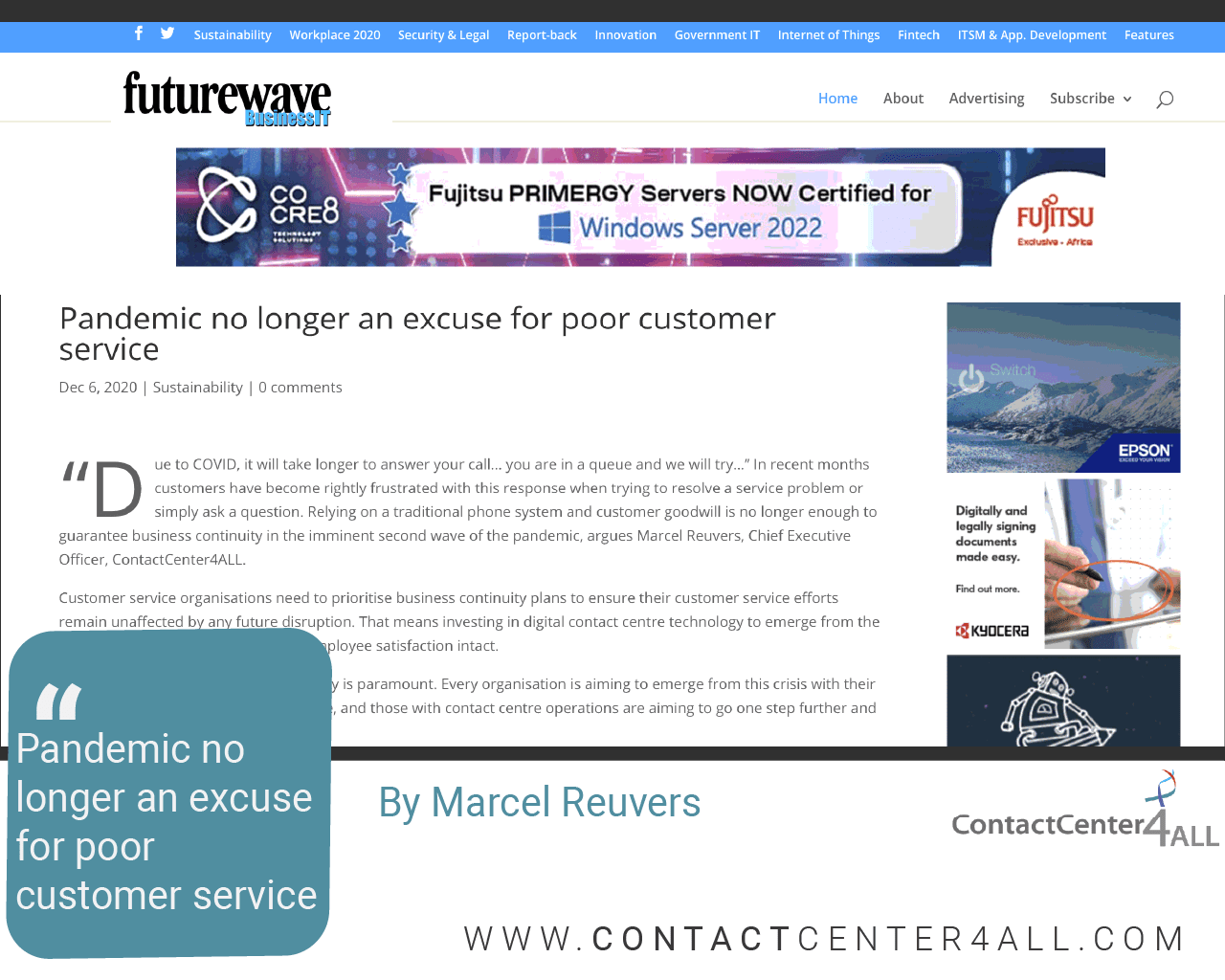 Due to COVID, it will take longer to answer your call… you are in a queue and we will try…" In recent months customers have become rightly frustrated with this response when trying to resolve a service problem or simply ask a question. Relying on a traditional phone system and customer goodwill is no longer enough to guarantee business continuity in the imminent second wave of the pandemic, argues Marcel Reuvers, Chief Executive Officer, ContactCenter4ALL.
Customer service organisations need to prioritise business continuity plans to ensure their customer service efforts remain unaffected by any future disruption. That means investing in digital contact centre technology to emerge from the disruption with both customers and employee satisfaction intact.
In the current climate business continuity is paramount. Every organisation is aiming to emerge from this crisis with their customer base as unaffected as possible, and those with contact centre operations are aiming to go one step further and keep their customers happy.
During lockdown there was a surge in demand for contact centres – some UK contact centre businesses dealt with an additional 35,000 calls in April alone. But many organisations had to balance the increase in demand with the rapid transition of an entire workforce to a remote working model, and in most cases this was not balanced successfully – 62% of surveyed customer service organisations admitted they would have to figure out how they could better manage remote working in the event of a second wave.
Organisations need to step up for the second wave – customer patience is running out
As the world finds itself in the middle of the second wave of coronavirus, organisations need to appreciate that consumers will be no longer be as lenient as they were during the first wave – over half of customers expect customer service to have returned to normal despite the pandemic disruption. In the first lockdown, contact centres with a poor digital infrastructure managed to survive on customer goodwill and patience and could use the pandemic as a reasonable explanation for disruption, but there is no room for error in the second wave.
Contact centres need to remain reachable. The only way to keep in touch with your customers in the current environment is through digital channels, so organisations must turn to a collaborative Unified Communications platform, supported by dedicated contact centre software, to deliver uninterrupted customer service regardless of the circumstances.
By embracing a truly digital contact centre, organisations will realise business improvements in four key areas which will enhance customer experience, satisfy customer needs and – most importantly – ensure business continuity.
Constant reachability requires flexible solutions
Flexibility is the key to achieving business continuity during times of widespread business disruption. Many organisations have returned to a total work from home arrangement. But even as lockdowns begin to ease, current social distancing guidelines are likely to be in place for the foreseeable future – most contact centres will not have the space to accommodate their entire workforce of customer service agents in a socially distanced manner.
Organisations need the flexibility to scale their in-office and remote workforce up or down as necessary, and many will not be returning to their traditional phone systems for this reason.
Employing a Unified Communications platform, such as Microsoft Teams, supported by enterprise-grade contact centre software, unlocks true flexibility for agents. By choosing a collaborative platform in the cloud, agents can operate anywhere, providing they have a stable internet connection. Businesses can transition their entire workforce to remote working using a cloud solution in just one day, with no impact on their customer service presence or their 'reachability' for customers.
A full-service digital platform means lower TCO, higher value

A major advantage of going digital is the reduced costs. The total cost of ownership of Unified Communications platforms are very low in comparison to traditional telephony systems. Instead of costly phone systems, such as a PBX, that are inflexible, expensive to maintain and becoming very outdated, Teams merely requires a recurring monthly subscription.
Unified Communications platforms not only save organisations money in a time when budgets are limited, they offer higher value to organisations than traditional phone systems – especially when enhanced with contact centre software.
According to research, 90% of customers believe that one channel of communication is not enough. To satisfy the current customer expectations, organisations need to offer customer support via email, live chat, social media and through traditional channels. Combining Microsoft Teams with additional enterprise-grade contact centre solutions unlocks omnichannel capabilities and functionalities not available in the standard version of Teams – such as intelligent skills-based routing, supervisor settings and call recording – going far beyond the scope of traditional telephony systems, but at a significantly lower price.
Business continuity concerns employees too
Business continuity is not just about keeping customers happy. An important element of business continuity that is often overlooked is the role of employees: happy employees, happy customers.
Organisations need to understand that their agents are also working remotely, and they need to be able to keep in touch with other colleagues as well as with their customers. Failure to pay attention to this integral area of business continuity can have a negative impact on employee satisfaction, and as a result the customer experience.
But by providing employees with the tools to work in an optimal way, organisations can help employees keep in touch with each other and feel empowered to perform their job to a high standard. CC4Teams is easy for employees to use, easy to manage and requires minimal training. This improves employee satisfaction and allows agents to continue to provide a high level of customer service, despite difficult circumstances.
Visualise the customer journey and agent performance with enhanced BI
In a time of widespread disruption, it is essential to be able to visualise the customer journey and identify whether an organisation is doing enough for its customers. Without sufficient reporting capabilities while working from home, contact centre managers will have no valid information about the current performance of their agents and how this compares to pre-pandemic performance. Additionally, as agents are increasingly working from home, they need to remain accountable and managers need to understand employee productivity.
This dedicated contact centre technology combined with Unified Communications platforms, means managers have access to additional PowerBI reporting dashboards to analyse and visualise real-time and historic reporting data. These additional insights can gauge customer satisfaction across every channel of communication, whether the contact centre is meeting KPIs and how it could improve. Having this valuable information and being able to leverage it is key to an organisation's success.
Contingency plans needed now to protect customer experience
Customer satisfaction dropped significantly during the first wave of the pandemic, and customers could forgive a level of lack of performance in the first instance, but not for long – it is no longer acceptable for organisations not to be reachable. While some organisations use the pandemic to justify a poor customer experience, cloud-based contact centre solutions offer customer service organisations the chance to not just match their pre-pandemic customer service, but to improve it.
By Marcel Reuvers
VanillaPlus, Dec 2020
Marcel Reuvers is CEO at ContactCenter4ALL