CONTACTCENTER4ALL is named one of 2023's top choices for native Microsoft Teams Contact Center solutions by UC Today.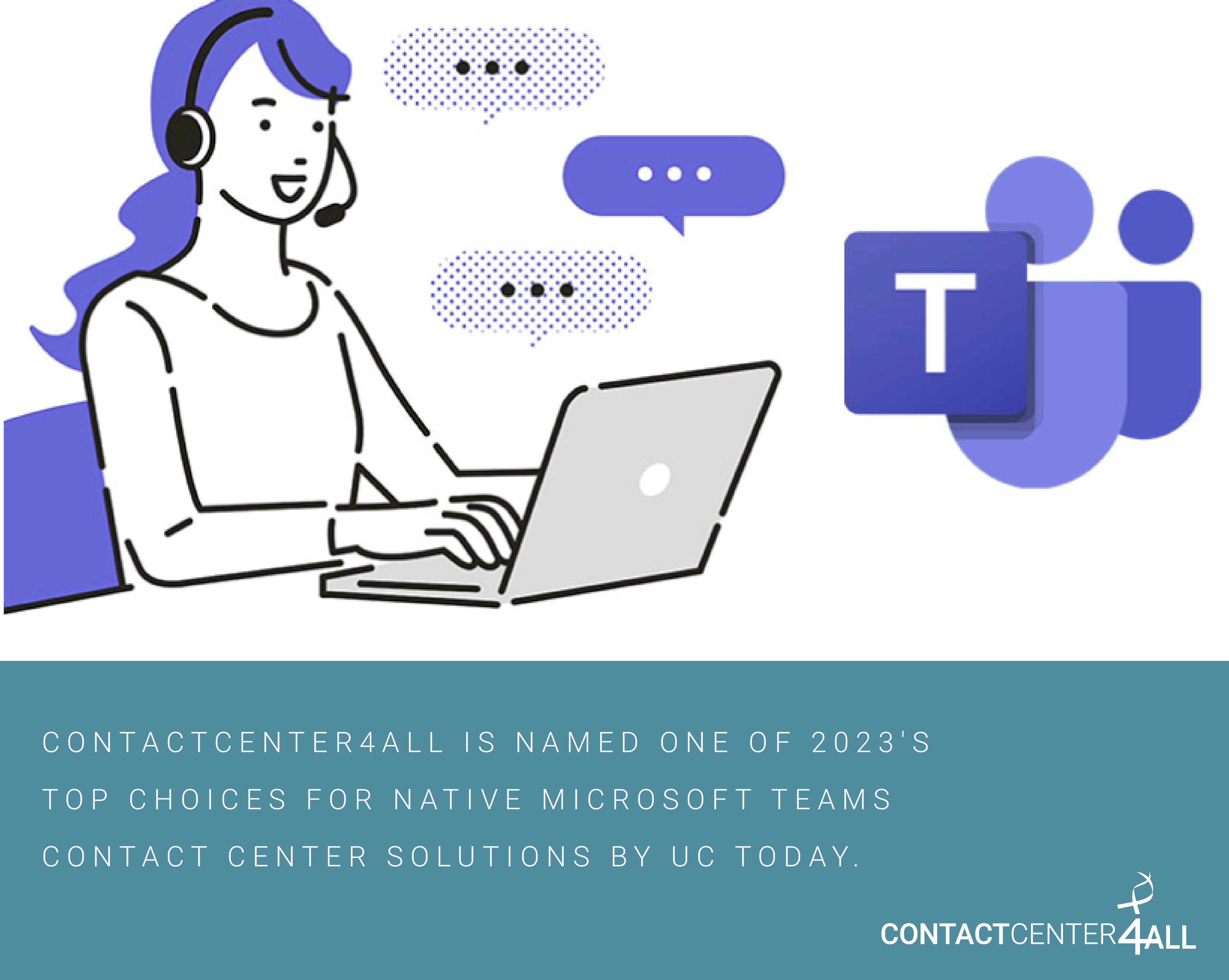 CONTACTCENTER4ALL is named one of 2023's top choices for native Microsoft Teams Contact Center solutions by UC Today. There's a major expansion in Microsoft Teams adoption as many businesses have adapted to hybrid working. However, organizations realize various specific features are required to transform the Teams platform into a full-service hybrid contact center.
CC4Teams allows agents to access all functionalities of a modern contact center through Teams from any location, often at a lower TCO than traditional solutions. And it is great to be recognized as a top solution in this space.
The Top Teams Contact Centre Integration Solutions for 2023
By Rebekah Carter _ UC Today
In recent years, Microsoft Teams has proven itself to be one of the most versatile and valuable tools for productivity, collaboration, and communication in the digital landscape. Perfectly suited to the age of remote and hybrid work, Microsoft Teams effectively unifies employees across a range of environments with file and screen sharing tools, messaging, video, and audio capabilities.
Companies leveraging the Teams ecosystem have begun embracing the technology not just as a tool for collaboration but also as a comprehensive suite for various forms of communication. In addition, thanks to Microsoft's extensive partner network, organizations can leverage integrations and apps to expand the functionality of their platform.
Unifying customer experience teams and delivering powerful omnichannel interactions to clients is possible through the right integrations. Today, we're looking at some of the top certified integrations for Microsoft Teams, which transform the ecosystem into a powerful contact center solution.
CONTACTCENTER4ALL 
Producing contact center platforms and reporting tools for Skype, Dynamics, and Teams, ContactCenter4All takes full advantage of its relationship with Microsoft. The CC4Teams contact centre solution is available on both the Extended and Connected direct routing models from Microsoft, both offering an all-in-one solution for customer experience.  
The offering includes native reporting, with insights into historical reports, as well as real-time metrics and notifications. CC4Teams is also a full omnichannel contact centre solution, allowing companies to connect with customers through web chat, voice, social media, email, and more. The offering even natively integrates with other Microsoft and third-party tools, such as Salesforce, Microsoft Dynamics, and Microsoft Power BI.  
Read the full article here
The Top Teams Contact Centre Integration Solutions for 2023